If you'd like to support the Comics Curmudgeon with a generous contribution, there are multiple ways in which you can do so!
If you want to send me a one-time or recurring payment using your credit card or PayPal account, just click the secure PayPal link below, then follow the instructions on PayPal's site. (You do not need to join PayPal to contribute — just have your card handy.)
If you'd like to send me a one-time payment using Venmo, just point your phone at the QR code below (if you're viewing this page on your computer) or press and hold on it with your finger (if you're viewing on your phone or tablet)!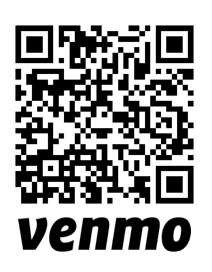 And if you're a user of Patreon and want to include me on the list of creators you support with a recurring monthly donation, just click the link below:
Please note donations are not tax-deductible, but the cash is used to fund the time and resources put into the site.
You can also choose to become a Comics Curmudgeon Subscriber and get either access to an ad-free version of the website or an ad-free version of each post delivered to you via email. You can find out more information about subscriptions here.
Thank you!
— Josh Fruhlinger