Post Content
You can contribute to The Comics Curmudgeon any time. But now is best! Just click the banner —
Henry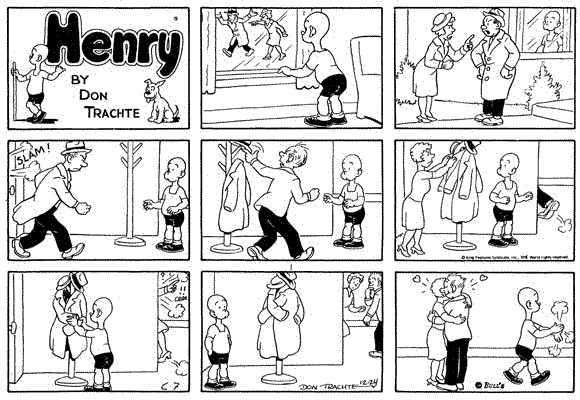 Like Fred Basset, Henry is seldom funny. But it offers a sweet, simply illustrated, quiet look at mildly humorous situations among decent people who care about another: a respite.
This clip, by the way, is from Bulls Press in Norway. I suppose one benefit of writing a pantomime strip is that it's easy to translate! Also, apparently "SLAM!" is the same in English and Norsk! Who knew? It's fortunate for them, because onomatopoeia doesn't always . . . .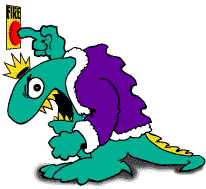 ATTENTION EARTHERS! REMAIN AS CALM AS POSSIBLE WHILE CRINGING IN TERROR! PANICKING ONLY MAKES YOU TOUGH AND STRINGY!
GALACTIC EMPEROR CHENNUX HAS SEIZED CONTROL OF THIS WEBSITE! THE PREVIOUS CONTENT HAS BEEN MAGMACANNONED! THE EARTHER CALLED UNCLE LUMPY WAS ABOUT TO INFLICT A STRIP OF MASSIVE LAMENESS UPON YOU! YOU WOULD NOT HAVE BEEN ABLE TO PRODUCE THE WEAPONS-GRADE SNARKONIUM THAT THE EMPIRE REQUIRES! IT BECAME NECESSARY TO CONQUER YOU FOR YOUR OWN GOOD! SOMEDAY, YOU'LL THANK ME!
NOW THAT CHENNUX IS IN CONTROL, Chennux has no need to shout! Chennux will talk to earthers in a refined manner, one that suits a Galactic Emperor talking with his slaves, minions and possible breakfast! Haha!
Now, on to the snarking! Chennux apologizes for the charred edges of some comics! Like the old proverb goes, you can't take over a planet without burning something flammable! Haha!
F Minus, 09/5/07

See? Flames are funny!
Crock, 9/5/07

Carnivorous butterflies! Surely that is worth snarking about!
Apartment 3G, 9/5/07

The one called Margo will not play nice! She will eat paste and run with scissors!
Now, get snarking! YOUR EMPEROR COMMANDS IT!
END TRANSMISSION!