Post Content
Ack! I know, I've been terribly remiss on a number of metapost fronts, not least of which is the SELF-CLUBBING TYLER CONTEST! I'm gonna get all of those pics up this weekend at some point, I promise, and let you all hash out the merits of the entrants before I make my decision next week. But till then, here's another few metaposty things.
First off! The following TDIET passed by on Saturday unremarked: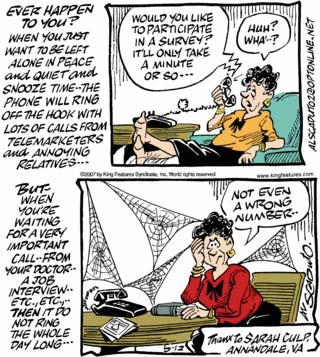 But! Did you know that "Sarah Culp" is really faithful Comics Curmudgeon reader Propaniac? It's true! Due to scheduling mix-ups at the syndicate, she actually missed her moment of glory on the day of publishing, but thanks to the Internet, it'll be here forever for all to enjoy. Sarah says: "I sent the idea in mid-November, when I actually was sitting around my house waiting for a desperately important call about a job interview, and the phone just wasn't ringing at all and it was driving me insane and it struck me that there might be a little bit of irony in the situation, and a little bit of irony is what TDIET is all about, right?" (She did end up getting the phone call — and the job — eventually.)
Several commentors have noted that their TDIET submissions have been accepted; be sure to let me know when yours will run so I can feature it here!
Now, on to merch! Even since last week, I've had this charming bit of banter stuck in my head: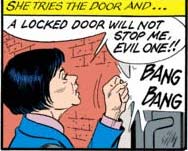 Thankfully, faithful reader extraordinaire willethompson has crafted one of inimitable merch designs out of it: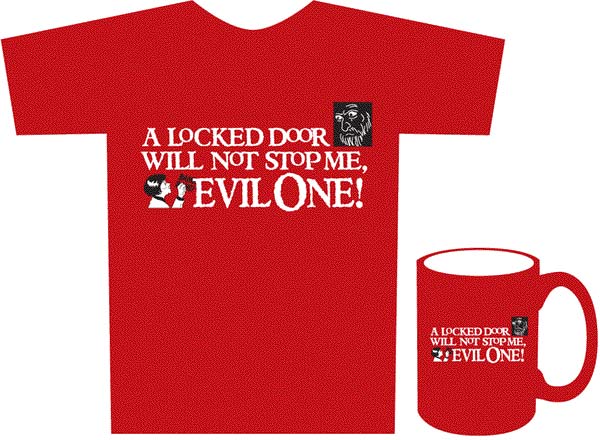 And he also took the opportunity to cook up another design he'd been contemplating, a tribute to Judge Parker's dear Abbey: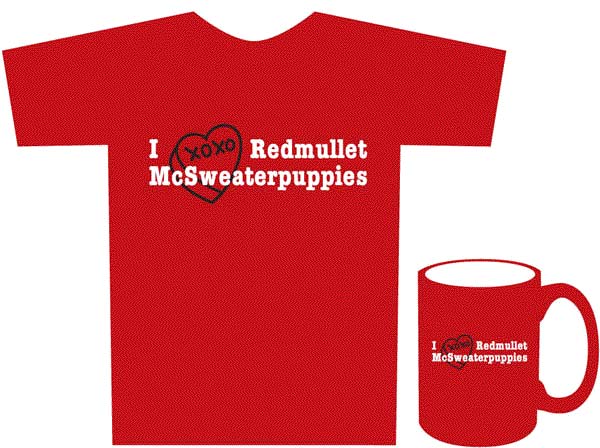 These fine, fine garments will run you $16 plus 5.50 shipping and handling. Cups are $13 + 5.50 S&H. Shirt/cup combinations are $29 + 6.50 S&H.
Now, remember the deal with these: We need 24 orders of each shirt to do a run, and 36 orders of each mug. It's a little more convoluted than CafePress, but the product is of higher quality. Orders close on Monday, May 28; if we don't get enough orders, the shirts and mugs won't be printed, though we might rework the graphic for use on CafePress. Head over to willethompson's home page for ordering details!
Finally, speaking of merch, and CafePress, don't forget that old classics, like the Finger Quotin' Margo shirt, are still available. In fact, faithful reader MeganKoumori recently acquired one of her very own, and shows of her quotin' prowess here: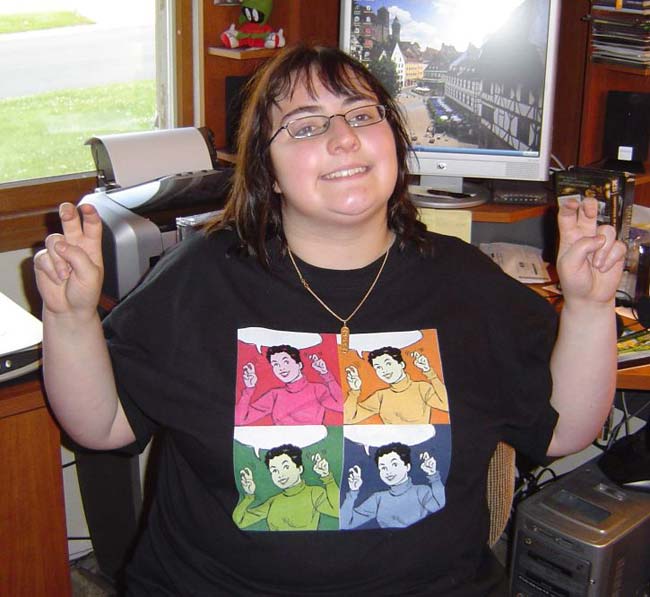 More stuff still available for your purchasing pleasure!