Post Content
Congratulations to faithful reader Joshua at comment #97 for his quick win! The dedication and knowledge of Foob fans continues to amaze! Sheesh, eleven minutes!
OK, here we go! This is the Foob trivia quiz with questions by True Fable and ChattyGenes, for the amazing Foob DVD prize. Contest rules are listed below. Please post your answers in the comments of this thread, and be sure to number them.
If you have a question about the contest or any quiz item, post it in a comment or mail it to me at bio@jfruh.com. I'll get back to you as soon as I can, and post any clarifications of general interest under "Updates" at the bottom of this post. You may want to check there from time to time.
Enjoy, and good luck!
For Better or For Worse Trivia Contest
1. April stole a bag of candy hearts from a store, and later paid the owner back. Who was the owner?
2. Kortney goofed off on this Web site instead of working at the bookstore. What was the site's full name?
3. Paul gave something to Liz when they first met face to face. What was it?
4. To be closer to Liz, Paul asked to be transferred to this place. What is the exact spelling of its name?
5. Michael took over as editor of a magazine. Whom did he replace (first and last names)?
6. Rebekkah went "roadside" with this Senior boy. What was his name (first and last)?
7. Paul left Liz for her. What was her name (first and last)?
8. Liz has a "spirit name." What is it (in English)?
9. Shawna-Marie married him. What's his first name?
10. Elizabeth attended Anthony's wedding with an escort who played a sport. What was his first name, and what was his sport?
And don't forget to keep your eyes on the prize: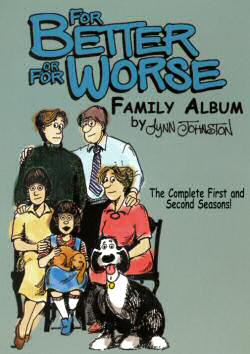 This is the two-DVD box set of the For Better or For Worse Family Album, ©2000, with eight half-hour episodes from Season 1 and another eight from Season 2. Every episode has an introduction by Lynn Johnston, and stories from "The Early Years" (before April), "The Growing Years" (April as a baby), and "The Later Years" (Mike/Dee, Liz/Anthony). The stories are well-produced, true to the strip, and really very charming.
Here's the plan:
Wednesday June 25 at 12:00 noon EDT (9:00 AM PDT), I'll put True's and Chatty's questions at the beginning of this post (it won't be the most recent post by then, so please bookmark or page back).
Post your answers in the comments of this thread. Spelling counts, so be careful with Miltawki Mtiwgaki Migwalty obscure place-names. Please number your 10 answers.
Contest officially ends at 12:00 noon EDT Thursday, 6/26, but we all know it will be much sooner if the server stays up. The first single comment with all 10 correct answers wins! If nobody gets 10 correct, then the first with 9, then 8 — you get the picture. No do-overs or multiple names, please — the first answer from each individual person is the one that counts.
One prize only; all decisions final; I am the Decider. True Fable, ChattyGenes, and I aren't eligible to win. Errors, delays, acts of God, crashes, and administrative incompetence on my part are all part of the fun!
Did I miss anything? Post questions below; I'll answer them up here. Invite all those fanatics from binky_betsy your friends! Have fun, and good luck!
— Uncle Lumpy
Updates:
Online, book, and newspaper research is expected and encouraged!
100% short-answer questions: no yes/no, multiple-choice, or essay questions.