Post Content
Ziggy, 1/13/11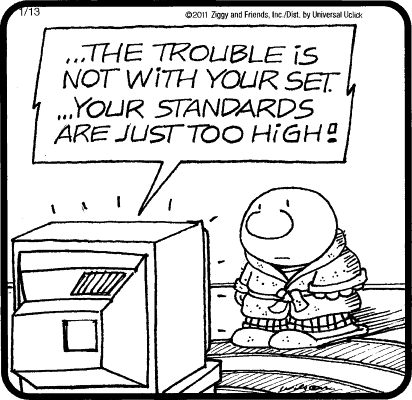 Ziggy is always hilariously cruel, but I find the cruelty in today's panel not just hilarious but particularly poignant. Ziggy of all people is being told that his standards are too high? Ziggy, who is poor and hungry, who soils himself on park benches, who gets insulted by random passers by, who's worth more dead than alive — Ziggy needs to calibrate his expectations for life downward? Is Universal Press Syndicate ready for the waves of suicide that will be set off by a new, even more depressing Ziggy?
Apartment 3-G, 1/13/11

What's really awkward, of course, is listening to a woman talk all night about her dead fiance, like Trey's done, and then trying to kiss her. This is true among ordinary humans, anyway, which is why Margo really needs to take the initiative, and capture and enslave her own mates.