Post Content
EVERYBODY! I helped contribute to a project coordinated by the amazing Ryan Estrada that I think you will be interested in! A bunch of comics heavyweights and I wrote dialogue that fit into awesome comics illustrated by Korean artist Nam Dong Yoon. Do any of us speak Korean? No! Were we provided with a translation of the original dialogue? No! Is the result hilarious and insane? YES!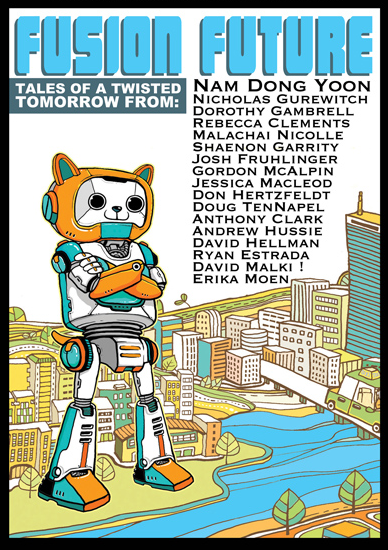 It's being offered as a part of The Whole Story, a pay-as-you-wish comics experiment. You'll get Fusion Future, the collection I contributed to, at the $10 level, but there's lots of other awesome stuff available, so check it out!
Also, since it is the beginning of the month, it is my day to remind you that, if you enjoy using and/or following jokesters on Facebook, Twitter, Tumblr, or Google+, why, you can follow me on any of those services, merely by clicking the appropriate links previously in this sentence! I post mostly the same things to all of these sites (links to updates to this blog, links to things I write elsewhere, announcements about projects, links to things I think are funny, dumb jokes) so probably just pick the one you like best. Or pick none at all! The choice is yours.