Post Content
Click the banner to contribute to the Comics Curmudgeon. Details here.

Twice a year I host a fundraiser to thank Josh for the time, effort, and talent he puts into keeping our beloved newspaper comics alive and relevant here on the Internet. And in this 10th anniversary year of the Comics Curmudgeon, we have some special gifts for our generous readers: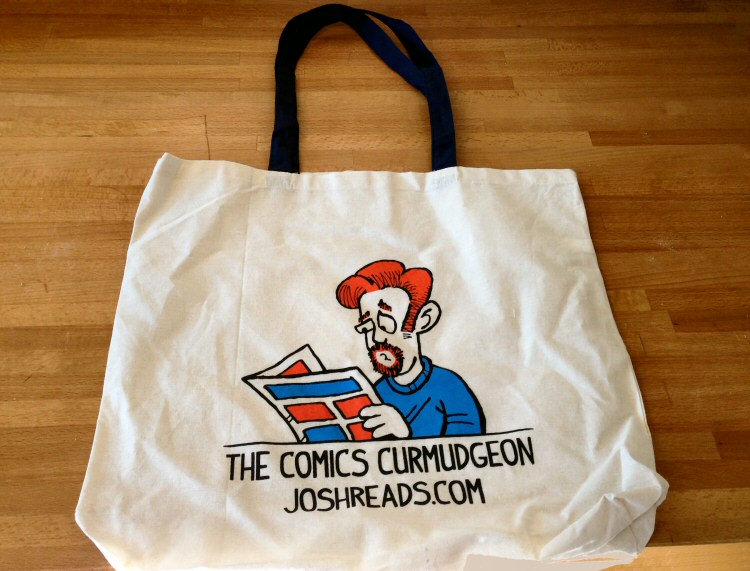 Every contributor of $25 or more will receive a roomy (16.5″ x 14.5″ x 3″) premium tote bag made from durable 5 oz. cotton, with long handles for easy toting. Perfect for concealing "stuff" on the way to eager consumers, horsey drawings to museums, or blood diamonds from jungle cancer clinics. Proudly emblazoned with a Comics Curmudgeon special edition version of Francesco Marciuliano's original logo, transformed into three-color form by Alice Johnston, whom you should totally contact for all your design and color-separation needs. Tote proud!

Every contributor of $10 or more, including tote bag recipients, will receive one of the world-renowned Matt Crowe legacy comic magnets featured in our Spring 2013 Fundraiser and back by popular demand. These are sensitively curated from an entirely new collection of classic Rex Morgan, M.D., Judge Parker, and Mary Worth panels, and preserved in archival refrigerator magnet form for your continued enjoyment and holding up of shopping lists and kids' artwork. Check out Matt's most recent work on his Twitter feed.
And of course every contributor of any amount receives the grateful thanks of Josh and the entire Comics Curmudgeon fan base, plus the satisfaction of sustaining one of the Internet's greatest Forces for Good.
To contribute by credit card or PayPal, click the banner at the top of the page and follow the instructions on the secure PayPal site. To contribute by check or money order, email uncle.lumpy@comcast.net and I'll reply with an address. Full details here, along with an index to all the banners in rotation at the top of the page and from previous fundraisers — more than 450 in all!
Thank you, generous readers!
— Uncle Lumpy