Post Content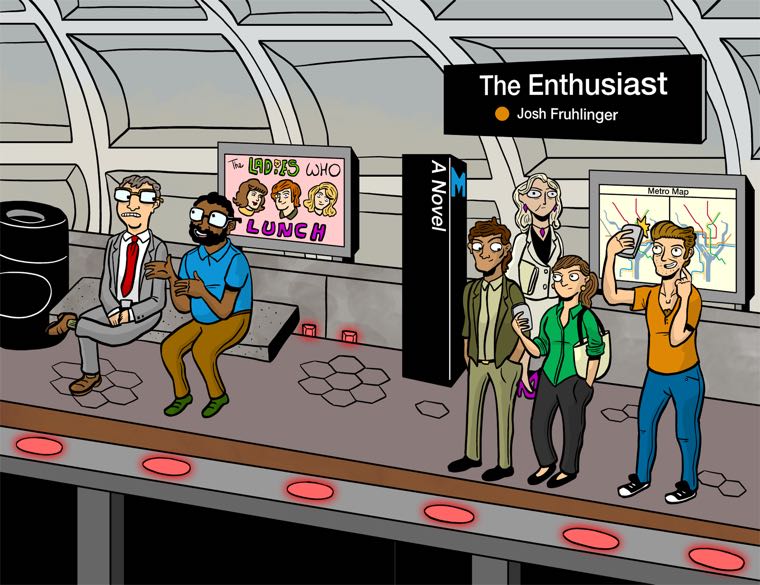 Hello, everybody! Remember three and a half years ago, when I had a Kickstarter to fund The Enthusiast, a novel I wanted to write? Remember how I promised it'd be done in like 18 months, and then that didn't happen, and then I didn't talk about it here or anywhere else for a long time, and then all of the sudden four months ago I started talking about it again and couldn't stop talking about it, and you were like, "Jeez, Josh, when can I buy this thing already?" Well, good news: you can buy this thing already. The book is about trains, soap opera comics, and a stealth marketing agency that infiltrates groups of enthusiasts, online and in real life, to try to sell things for their clients. I'm very proud of how it turned out and am excited for you to read it. If you like this blog, you'll probably enjoy it.
You can buy the hardback version for $25 or the softcover version for $15 over at TopatoCo. Only a limited number of hardbacks are available, so act fast!
You can buy the ebook edition for $8. This is a DRM-free bundle that includes Mobi (for Kindle), EPUB (for everybody else), and PDF (for any device) files.
The printing process came down to the wire in December, so if you want to give a copy of this book as a gift, you need to buy now! to get it by Christmas. Here's a handy chart with info on shipping times from TopatoCo, the people who are doing the shipping. (If you buy the ebook edition, you can download it immediately after purchasing it, obviously.)
If you'd like to get a sense of the book before you decide to buy it, I've put the opening chapter up on Medium, and you can listen to me read chapter three on the Catapult podcast. You can also read this extremely positive review from Gary Tyrrell, creator of the Fleen webcomics blog.
And, finally, I've decided not to run my usual fall fundraiser this year in order to focus more on promoting my book. But if the mood strikes, you can always throw a few bucks in my tip jar, in addition to/instead of buying the novel. Thanks so much!