Post Content
Folks: it's the Friday of the month, and you know what that means: my live comedy show, The Internet Read Aloud, is happening Los Angeles!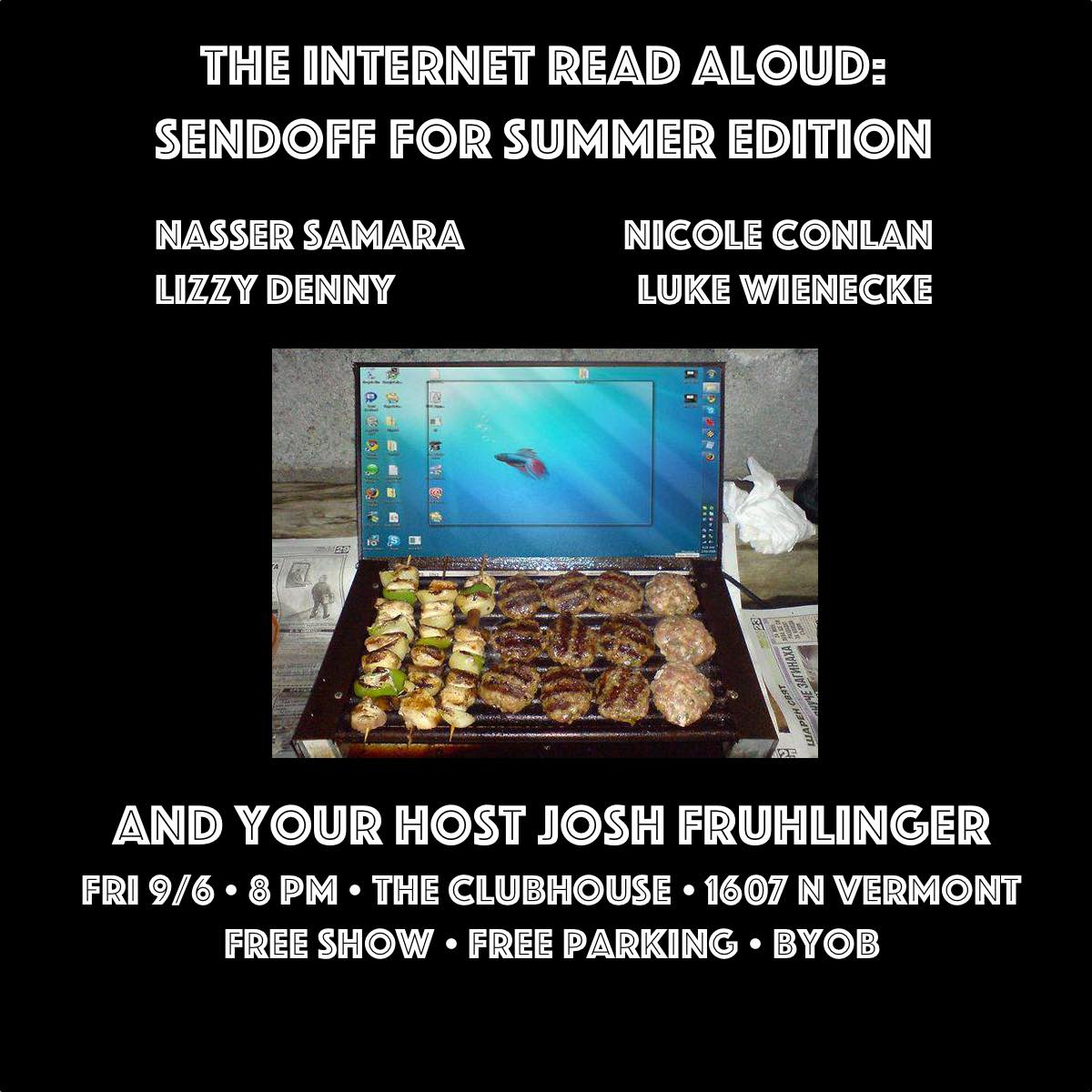 It's a great batch of performers this month, so definitely you should come out and watch us!
Also, apologies that I've gotten behind this week in thanking everyone who donated to the pledge drive — you're gonna get those thank-yous this weekend, promised!
And finally, it wouldn't be the weekend starting off right without a comment of the week!
"I've seen flaming drinks like Bill Ellis is holding, but damn, never handled so casually." –Downpuppy
Your runners up? Also hilarious.
"I swear to Christ that guy dropping two little French bits in the conversation to remind the reader he's French is killing me. I was less annoyed and instinctively repulsed when I walked into a spider web a couple of nights ago." –toxic

"Also, mon cherie, there is the French law that requires me to change my phone number and email address after returning from abroad. Quelle tragedie!" –Francisco Arrowroot

"House-painting visas are notoriously tricky, not to mention real, this probably isn't a line to blow her off or anything." –Dan

"For a whirlwind romance this is awfully slow moving." –Northernlurker

"If they both love the USA and France too much, maybe they can find a compromise solution in the middle. Louisiana? Quebec? A NATO base in Wallonia? 1951 movie An American in Paris? The hashtag #Amélie on Pinterest?" –Ettorre

"The nurse is going to need to put him under general anesthesia in order to remove his hat." –Rusty

"Yeah, Toast Oakwood! Finally the Milford High Young Sommeliers Club gets to bust out their tasting-note puns!" –pugfuggly

"I see that air traffic control at Santa Royale International Airport consists of pasting silhouettes of airplanes on the windows so other airplanes see the cut-outs and don't crash through the glass." –Voshkod

"Because it's Marvin, all I can think about is the kind of violent shit a dinner of microwave Salisbury steak and chicken parm would cause." –The Mighty Untrained FOOZLE

"I doubt your single days were all that great. With those looks, you couldn't get laid at a nymphomaniacs' convention. And your personality! Ha ha! Forget about it!" –Peanut Gallery

"Look, I just want to tell people I have a boyfriend in Paris. Can you give me that much? Because I'm going to anyway." –BigTed

"I always pegged Alex(ander) as being a rather milquetoast conformist, but I have to give him credit: kicking in a TV screen and keeping your foot inside is extremely badass." –Irrischano

"What kind of video games are we talking about here? Are we talking about full-priced retail games, which would put that elegant-looking dress at a fairly modest price of $180? Or are we talking about 'free-to-play' games, which can quickly empty people's entire bank accounts and ruin their lives through predatory microtransactions?" –jroggs

"Ahhhh, the $2.99 distraction. Dawn will be in the Denver airport before she realizes that he's pulled the ol' 'airport switcheroo' and sent her off on a plane. But she'll always have her lovely keepsake, if the cleaning crew can find where it fell off before they vacuum it up." –Handsome Harry Backstayge, Idol of a Million Other Women

"I wish I could love anything as much as middle-aged dude cartoonists love drawing young women." –lorne

"If Dawn can be so easily bought off with beads and trinkets, see what she'll take for her dad's condo." –Guillermo el Chiclero
Thanks to everyone who became a Comics Curmudgeon Supporter to get an banner-ad-free site, put some scratch in my tip jar, or backed me on Patreon!. And we need to give a big shout-out to our advertisers:
PicturePunches: Join our community of funny memers who like to earn from their sense of humor.
If you'd like to advertise on the Comics Curmudgeon, and get your very own shoutout in this space, head on over to my BuySellAds page!