Post Content
Folks! Two weeks from today, the Internet Read Aloud returns to the city of Los Angeles, with a very special guest: Washington Post columnist/Wait Wait Don't Tell Me panelist/published author Alexandra Petri! Plus me, and some local favs! DO NOT MISS THIS SHOW if you are in the area, it will be very funny, plus it's free, what do you have to lose???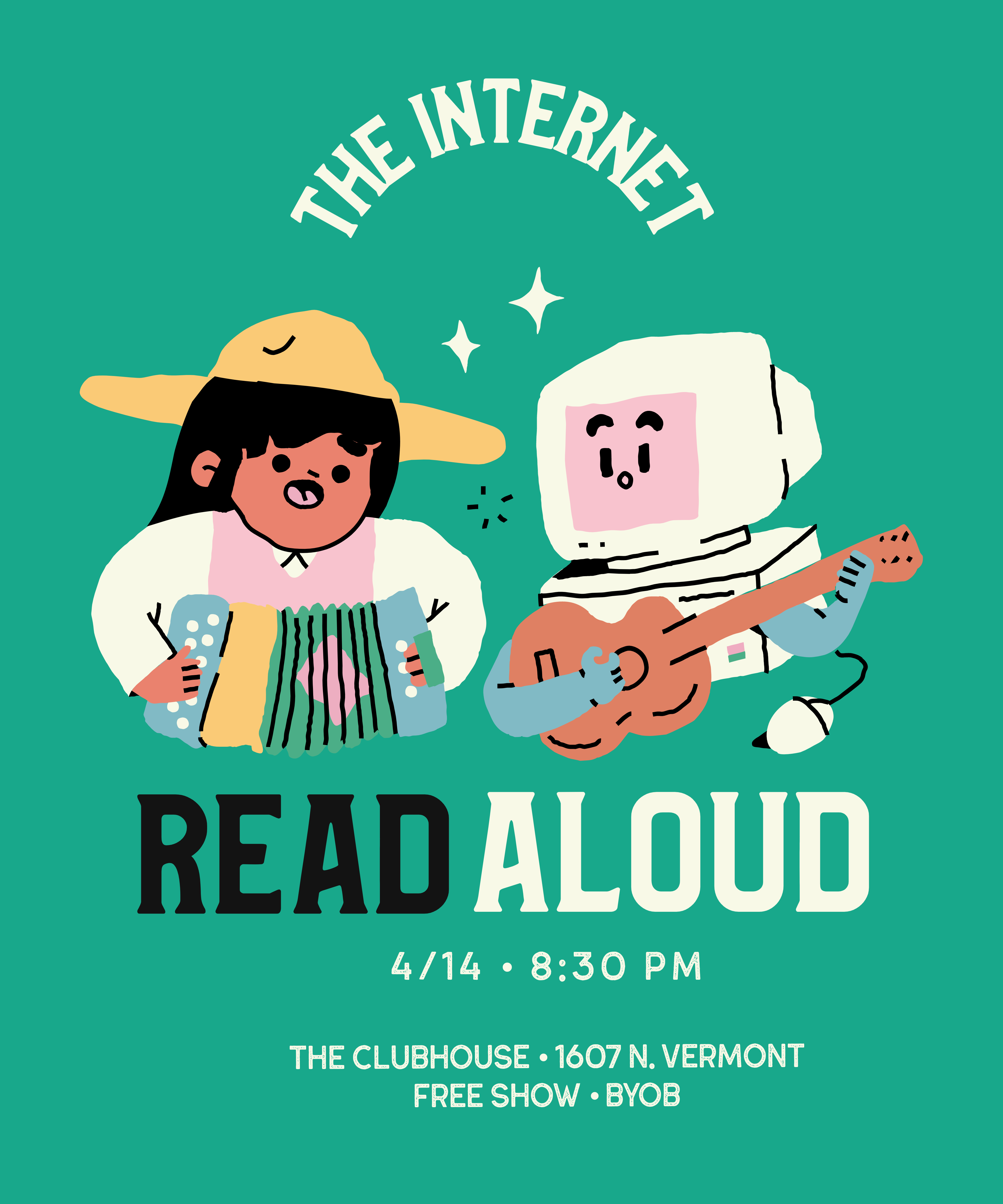 Here is the Facebook event, if you wanna let Facebook know you're coming!
But you know what's arrived? Your comment of the week, my friends:
"I love that in Hi's imagination, he's literally just Slash. His long term plan to kidnap the Guns n Roses guitarist and steal his hat/identity was foiled by his age. Being 40-ish, he's far too young to be a member of Guns n Roses." –Schroduck
And your runners up are also very funny!
"'There's one thing I don't regret,' said Hi. 'What?' asked Lois. 'Marrying you.' Lois blushed and squeezed against him, taking comfort in his presence for as long as she could before the smell brought her back to the problem at hand. 'There are two things I regret,' she said. 'What are they?' asked Hi. 'First, that we never had an intervention for Thirsty,' Lois stood and walked over to their neighbor's corpse, holding her nose as it released foul gasses into the air, 'and second, that we gave him a house key.'" –Glod Glodsson

"As Yvonne and Hank sit among the newly dead, their particular brand of hell is hearing only new songs from an old favorite." –Hibbleton

"Mud definitely thinks 'intimate experience' means he gets to fuck the drinks server." –Dan

"It's going to be interesting to see what happens to the US Civil War was these adorable moppets bring diseases with them that nobody will be prepared for. Covid-19, where the 19 means which century it first appears in." –Tabby Lavalamp

"This is part of Mud's 'No Time For the Hits, I Got the Shits' tour." –nescio

"What I've learned from today's installment of Daddy Daze is that, for some reason, you never see people dressing infants in black long sleeved (I want to say 'turtleneck,' but you have to nave a neck for that) shirts." –Handsome Harry Backstayge, Idol of a Million Other Women

"'Ba ba BA!' 'There are ways of writing dialogue between a verbal and a non-verbal character that provide adequate context for what the latter is saying without having the former mindlessly repeat what they say?' 'Ba ba ba ba.' 'I should look at C-3PO and R2-D2 for a good example?' 'Ba ba.' 'You're going to sue for emancipation when you're fourteen?' –TheDiva

"I'm getting a 'folk singer's bodyguard' vibe." –Pozzo

"It's clear what happened here. Mud Mountain Murphy took a dump of such proportions that he literally crapped out his trucker's personality and all that was left was an emotionless but suavely dressed shell, like Agent Smith in The Matrix." –Chance

"While Dennis' eventual downfall will be his hubris, the prosecution at the UN tribunal for his many crimes will also be aided greatly by the accurate, timestamped and collated records of his lifetime of misdeeds kept by Amazon." –Philip

"Leroy looks absolutely gutted that someone gave him a sarcastic answer complete with a prop. That's my thing, he thinks. If anyone can do it, who even am I?" –pugfuggly

"I said I wanted a phone where I could talk all day and never have to charge the battery. I don't know why I said that; I hate everyone and really don't like talking much unless it's to belittle you. Anyway, I traded in your iPhone 14 for this Bakelite rotary model. Fuck you. Your turn." –Voshkod

"Isn't that David Letterman after the transporter combined him with Paul Shaffer in that Star Trek: Voyager episode 'Shafferman?'" –Garrison Skunk
Remember: If you want an ad-free version of this site sent to you every day via email, for $3 a month you can become a Comics Curmudgeon newsletter subscriber! And if you never want to see banner ads on this site, and want to get cool comment-editing features to boot, for the same low price you can become a Comics Curmudgeon website subscriber! And if you just want to give me money directly, you can put some scratch in my tip jar, or back me on Patreon! Thanks to all for your support and readership!