Panel from Spider-Man, 1/1/13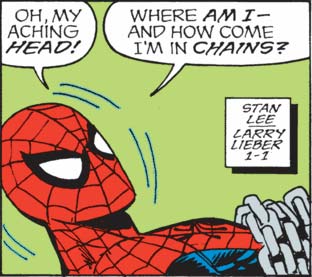 Hello, everyone! I'm back from my voyaging, and having looked at exactly zero comics since December 23rd, so I feel a little like this panel, which I saw gloriously devoid of context just now (as if any panel of Newspaper Spider-Man is improved by "context" or whatever). Real comics and commentary thereupon will arrive sometime Wednesday, maybe late afternoon-ish, as I have a week's worth of strips to catch up on, but I wanted to put this post up to (a) assure you I was still alive and (b) let you know that you only have a few more days to vote in the most important Mary Worth-themed awards competition of the season, the Worthy Awards, produced by the always excellent Mary Worth and Me blog. Go forth and choose your faves!
I hope you all had pleasant holidays and a happy new year's celebration! I'm making the same pledge I make every new year on this blog: To keep doing the same thing I've been doing for years, because I love it. Hope you do too! See you tomorrow with real comics mockery!