Post Content
Mary Worth, 7/23/06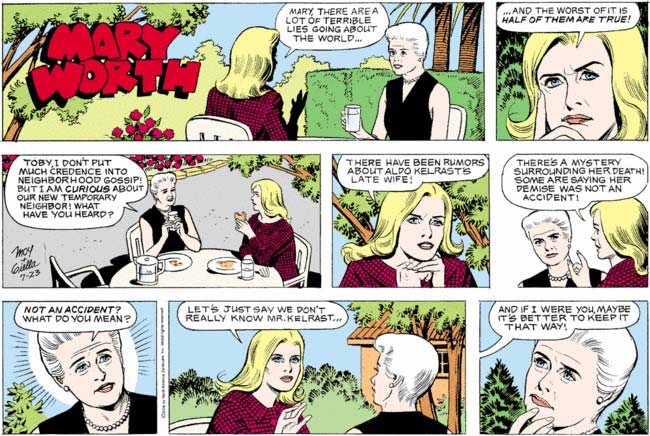 BEHOLD PANEL SIX! MARY'S HEAVENLY GLORY AND RADIANCE IS REVEALED! MARY WORTH, QUEEN OF ANGELS, HAVE MERCY UPON US! WE SINNERS ARE NOT WORTHY TO BASK IN YOUR GLOW!
Ahem. Mary's divine nimbus livens up this otherwise shapeless outing in which Toby gossips in a fashion in which no actual human ever gossips, to wit: with a total dearth of even made-up details as to what Aldo's done and how the information got to Toby's ears. This is the sort of dialogue one expects out of a grizzled old gasoline station owner trying to keep a group of kids from going up to that haunted campground, not Charterstone's resident trophy wife.
In panels four and seven, Toby has the concerned and slightly confused look that supermodels get when they've discovered some great injustice in the world and can't understand why the public won't take their political activism seriously. Fortunately for plotting purposes, I'm guessing Mary will ignore her and run head-first into danger.