Post Content
Rex Morgan, M.D., 6/21/07

My biggest genuine laugh in today's comics came in the final panel of Rex Morgan, M.D., when I saw whose names were on that bottle of pedestrian red wine. Graham Nolan likes to play around with his signature spots, but this is probably the best one yet.
Speaking of panel three, June appears to be trying her best to give Heather a run for her money when it comes to lingering stares that are both sexy and soul-destroyingly icy. Hugh just seems to bring that out in the ladies. 'Cause OH NO YOU DO NOT CALL GIRLFRIEND'S WINE SELECTION "PEDESTRIAN."
They'll Do It Every Time, 6/21/07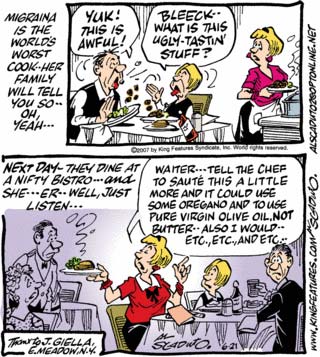 I'm not sure if "total and continuous failure to recognize one's own inadequacies" really falls into the classic TDIET ironic-twist template. I do have to say that I kind of enjoy the cartoonish overreaction of father and son in the first panel, in which they're literally spitting out their food all over the table. However, what really caught my eye was the submitter: could this be Mary Worth artist Joe Giella? And if so, why doesn't the submission reflect that? "Big shot editor at the syndicate says he wants you to 'sex up' your older comic heroine ('Make her younger … thinner too … baby blue eyes … great gams … etc.') … but what happens when the letters start rolling in? ('Deeply disturbing … not in keeping with the strip I've read loyally for 50 years … I want to tear out my eyes') … OH YEAH!"
Slylock Fox, 6/21/07

I'm pretty sure that "blue" puddle under the baby has been colored wrong.