Post Content
Okay okay okay!!!
For somebody who can bear the harsh glare of publicity as Blogger of the Year, and risk total humiliation as a first-time stand-up comic, Josh is incredibly shy about asking for money!
Not me, though! That's why I'm pleased to announce the first-ever Comics Curmudgeon Garage Sale!
If you breeze by this site for a chuckle now and then, hey! How 'bout a couple bucks?
If you (like me!) nurse a callus on your "F5" finger checking for new comments at 3:00 AM, hey! Step up!
Here's how it works: Contribute money to Josh's secure Tip Jar, then, if so moved, come back and brag about it in the comments! What about the Garage Sale part? A flimsy pretext! Use it if you like, or make up your own!
Questions? See the FAQ below, or more information at the Tip Jar!
And thank you!
— Uncle Lumpy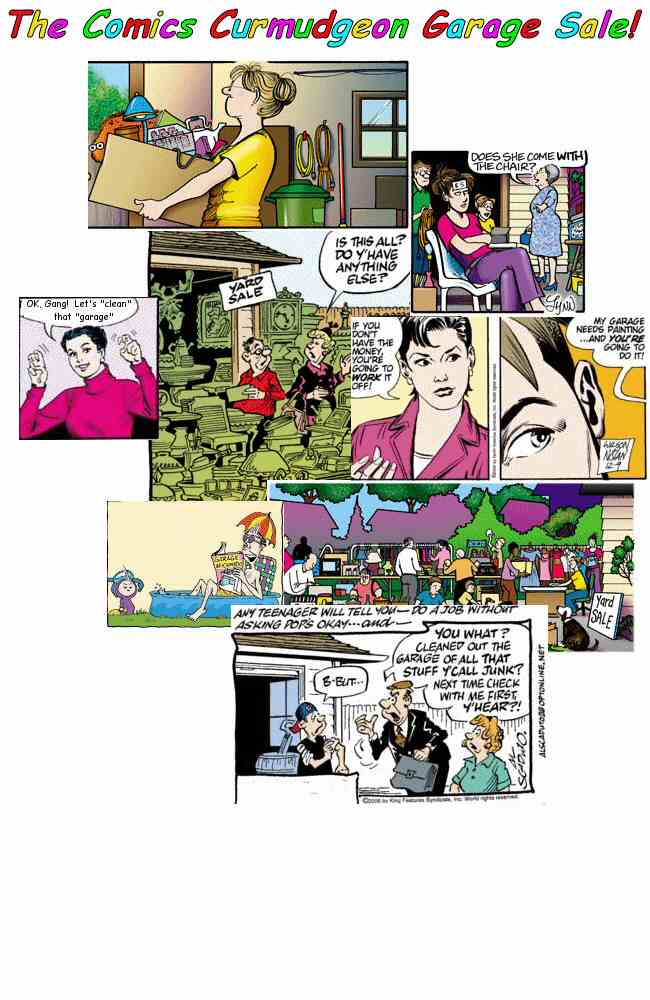 FAQ
——————————————————————————–
1. This isn't a paid gig for me (well, Josh promised to send me a Cassandra shirt).
2. I have no access of any kind to the Tip Jar. All your generous contributions go directly to Josh and the upkeep of this fine site.
3. Nothing is really for sale. I don't know if Josh even has a garage.
4. You can pay by PayPal®, Visa, MasterCard, cash, check, bearer bonds, loose gemstones or gold bars! See the Tip Jar for complete instructions!
5. Josh also posts ads and sells shirts to keep the site going, but contributions are the most effective (and personally rewarding!) way to say "thanks for this fine site." I feel terrific when I hit the Tip Jar, and I think you will too. Hey, how about right now!
——————————————————————————–