Post Content
You've had plenty of opportunities to read Mark Trail on this site. But you've probably said to yourself, "I wish I could see this comic strip stiffly acted out by amateurs! Nothing too long — only five or ten minutes, say — and perhaps in the context of a larger variety show setting."
Well, sir or madam, if you live in the Baltimore area, or are willing to travel to same, your dreams are about to come true.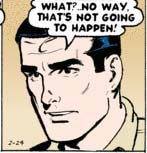 No, Mark, not even you and your flying fists can stop it! On Friday, November 9, and Saturday, November 10, some friends and I will be putting on Mark Trail Theater! Thrill as actual Mark Trail dialog and action is rendered into live performance on the stage! Marvel at the incredible resemblance between at least some of our actors and the characters that they will portray! Laugh at the deadpan irony as you try to sort out whether our performance is an homage, a parody, or something in between! One of us will be wearing a real live bear suit! DON'T MISS IT!
Mark Trail Theater will be but a single act within Glitterama!, a variety show put on by the Fluid Movement performance art group. If you live in or near Baltimore, you really ought to know about Fluid Movement by now, but if you don't, Glitterama will be an excellent introduction. Other acts with which we will be sharing the stage include (but are not limited to) lion taming, torch song singing, gender bending, and black-lit poi swinging! (I have no idea what that last one means.) This is the third Glitterama show and the previous two were awesome — and they didn't even have me in them, so this will clearly be all the better! The shows tend to be a bit racy; probably best not to bring the younger kids.
The performances will be at the Load of Fun Studios at the corner of Howard St. and North Ave. in Baltimore. The Friday show is a 8 p.m.; Saturday shows are at 7 p.m. and 10 p.m. Tickets are $10; you can buy online at Brown Paper Tickets or at the door (if you want to risk them being sold out, which you don't, obviously).
More updates and reminders to you to attend this fabulous performance will be upcoming. Possibly including a picture of a guy in a bear suit.
Speaking of upcoming events, those of you who are going to Small Press Expo in Bethesda tomorrow (Saturday), don't forget that I'm moderating a panel on comics stripping with Keith Knight, Ted Rall, Bill Griffith, and Nicholas Gurewitch at 12:30 p.m. Don't miss it!
Finally, on a totally unrelated note: as you may or may not know, one of my freelance clients is a tech-related site named ITworld.com. They're doing a gadget giveaway over there in which you can win a Swiss Army Knife with a USB flash drive built in. All you gotta do to enter is give them your e-mail address. Somebody's got to win; why not one of you?