Post Content
OK, so this is one of those metaposts where I go out into public and talk to people and sometimes pose for pictures with them. If you hate these posts, stop reading now! Really, you won't enjoy it, I promise you.
So anyhoo, this past Saturday I went to Small Press Expo in Bethesda and it was great fun! I met many people and moderated a panel and acquired so many comics/graphic novels/what have you that I literally threw my back out carrying them home in my shoulder bag.
The panel, featuring comics luminaries Bill Griffth, Keith Knight, Ted Rall, and Nicholas Gurewitch, went pretty well, I think. I set clear goals going into it: I didn't want the discussion to become so acrimonious that it resulted in physical violence, and at no point did I wish to completely run out of things to say and stare silently and slack-jawed at the panelists. I'm pleased to announce that I met both of those goals! Also, we had an interesting discussion about contemporary comics. A couple faithful readers whose names I didn't catch introduced themselves to me there; take my word for it that they were extremely attractive and well-mannered. They seemed concerned about whether or not I had secured a ride down; I actually ended up taking the train, which was just as well, as it was the day of the Baltimore Marathon and it would have been impossible for anyone to drive to my house anyway.
The real action was out on the show floor, however. I spent some quality time chatting up the fellows from Blank Label Comics, including David Willis of Shortpacked!…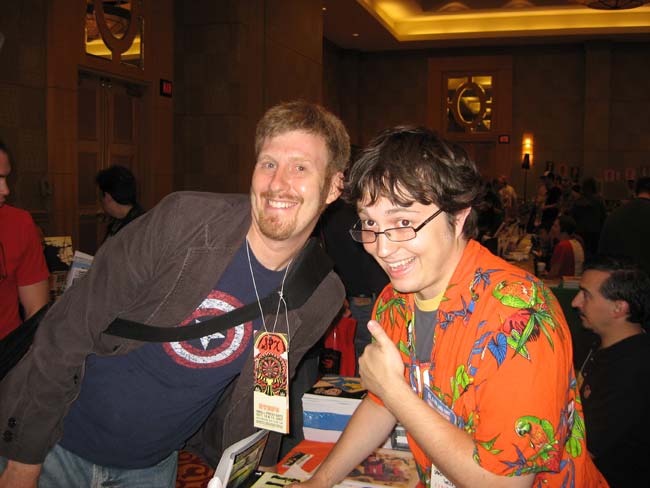 …and Dave Kellet of Sheldon: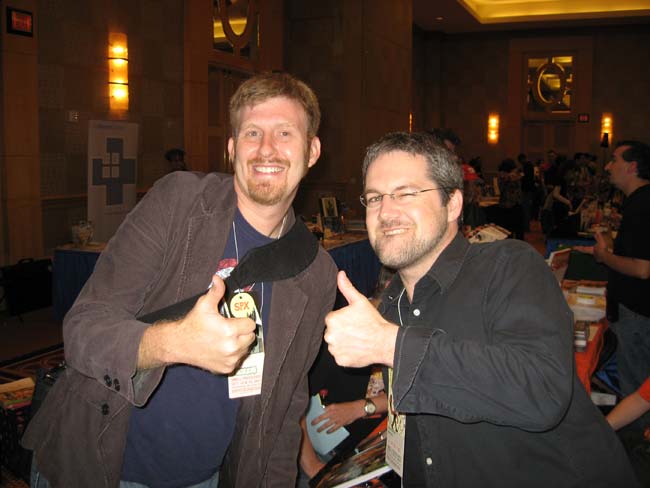 We're all flashing the gang sign invented by my friend Maria for a gang of incredibly dorky white people. David Willis is the designer of the Margo Warhol t-shirt, so you know he's a gentleman and a scholar. Incidentally, both Daves are required to follow up on their drunken agreements to the unreasonable demands I lobbed at them (that Sheldon take advantage of its new Web-only format and produce at least one triangular cartoon, and that Shortpacked feature Cobra Commander more often).
But Dave Willis wasn't the only Comics Curmudgeon merchandise logo creator in attendance! Also there was Monica Meehan, aka faithful reader mon-ma-tron, who designed the Aldomania logo, and her husband Bram: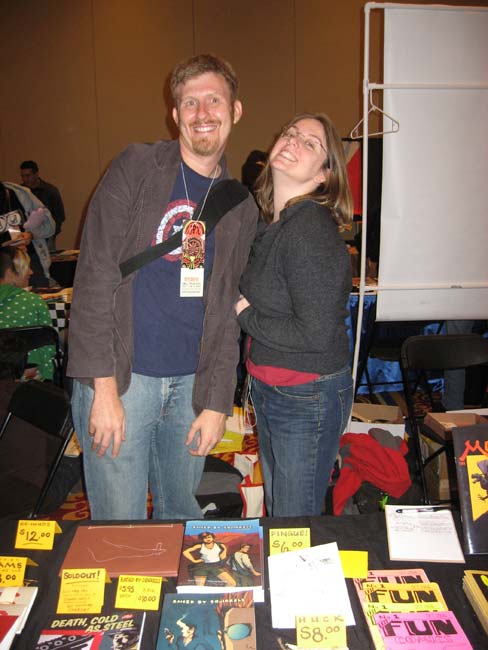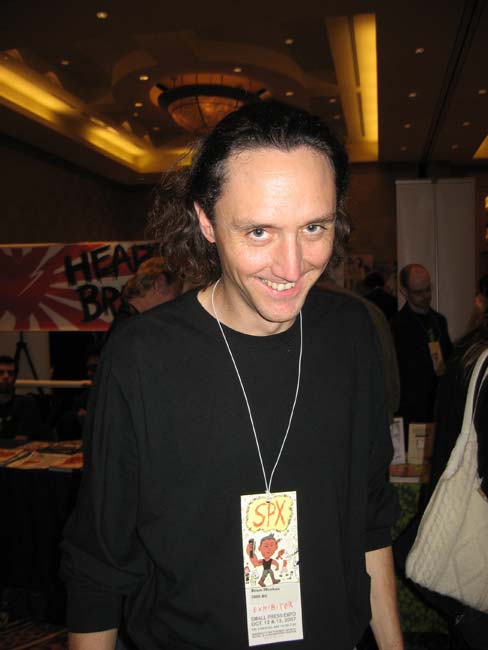 They were there hawking their super-awesome Raised By Squirrels series.
I also spent a good chunk of time at the table shared by Julia Wertz of the The Fart Party, Shannon O'Leary, the mind behind Pet Noir among other cool things, and Joe Sayers. My failure to get a picture of/with them was a lapse on my part and in no way a statement about their photogenic qualities. They were super-nice and let me eat one of their donuts! And, at a different table, I chatted up David Malki, who was lying low at SPX, but once long ago he took on San Diego's Comic-Con in an epic struggle that was captured on film.
As a last pic, here are a pair of faithful readers: Aaron (aka zinco) on the left, and Propiniac on the right, who is none other than "Sarah Culp" in this TDIET. That's right: I actually got to touch someone who successfully submitted a TDIET! I'm not worthy!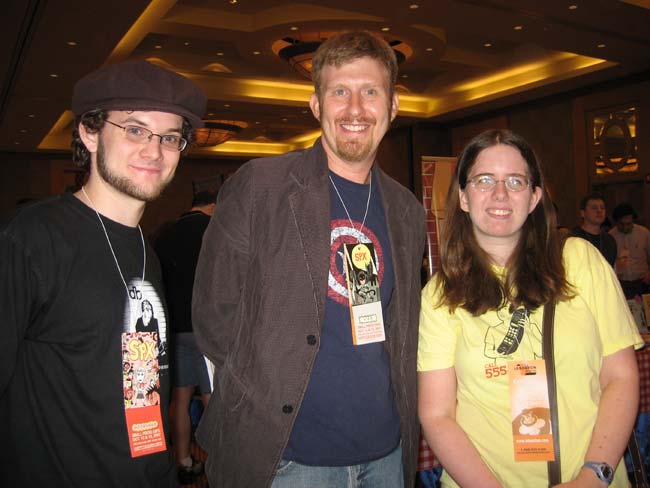 In sum, it was a good day and well worth a couple of hours of quality time spent on Amtrak. And, as a final note: Dear lady wearing a Finger Quotin' Margo shirt: I saw you out of the corner of my eye while I was talking to someone else. When I looked up again, you were gone! I searched the room for you but never saw you again. I'll always remember you, though.
Update: Gah, I knew I'd forget somebody. Lloyd Dangle of Troubletown: Also a pleasant fellow who spent some quality time talking to me, plus he gave me a free package of Airborne that he drew a cartoon for the box. Yay Lloyd!