Post Content
Now that American Thanksgiving is over and order has been restored to the cycle of days, we must offer the typical Sunday COMMENT OF THE WEEK!
"Tell me, do you think Jeff's allergic to dogs, or just allergic to having Mary Worth show him a dog's junk? Because that second one seems like a good allergy to have." –Trilobite
Plus: there are runners up, and they are also funny.
"Pluggers don't realize that most VCRs will still only flash '12:00′ over and over for eternity no matter when you plug them in. Then they blame the 'Japs' for making things so complicated. Then they complain that things aren't made in America any more, so they break instantly instead of lasting through geological epochs. Then they hop in their Mexican-built Chevy and drive to Wal-Mart to 'save a buck' by buying Chinese sweatshop goods. Then they have bran." –Mr. Coffee Nerves

"I think of TJ as more like Lucy Ricardo. Not quite as butch as Martha Stewart." –FreshHell

"The woman's look of sheer horror and disbelief leads me to believe that the only thing the three men plan to do is sing — loudly and off-key. She would much prefer a joint." –Mariko

"That Lynn actually allowed a little zinger at Michael's expense surprises me. Maybe I shouldn't use 'Michael' and 'little zinger' in the same sentence. Ew." –The Avocado Avenger

"Aside from the fact that Abbey's complaints inspire absolutely no pity in me, it's also just plain unbelievable that the ultimate power couple (the richest person in the area, married to the conniving politically-connected lawyer) could possibly be outmaneuvered politically by someone named Biff." –jvwalt

"Mark Trail leaves me so confused that I almost want to care." –Shlomo

"Where the hell are the flappers, A3G? If you're going to throw cheesy dialog from the 20s like 'tavern' and 'gang' my way, I best be seein' some flappers." –King Folderol

"Um, Persuader? Can we persuade you not to wear a green sport coat and a tie with horizontal orange and black stripes? Please? Or is this part of your mighty powers of persuasion? 'Okay! I'll do whatever you want! You clash so horribly that it burns my eyes!'" –Inspector Dim

"I love the dazzling WASP-ness of the Apartment 3G characters. I mean, does anyone actually use the term 'Irish charm'? 'He's one of those Irishmen, he touches girls sometimes, and may even wear a black sweater vest and a tie that does not match his suit. They really are a mystical people.'" –evie oh oh

"Just what can this uber-hip 'tavern' the A3G folks are meeting the 'gang' at be like, given that Neil and Gary will arrive in powder-blue sports jackets, Gina in a scalloped after-dinner-mint pantsuit, and Tommie resplendent with her lime blazer and buttoned-up 'no-hickey' dickey? No doubt, the coolest in Manhattan! I'm picturing a lot of girls with long cowl-neck sweaters that cover their behinds, with tights and leg-warmers; guys with broad-striped rugby shirts with wide white collars; sansabelt slacks galore, and everywhere you look: cardigans, cardigans, cardigans!" –Moon Mullins

"I'm thinking that Crock could start every strip for a year with 'What's wrong with Grossie?' The first two strips could be 'Her name' and 'The fact that I can't even tell where her head is supposed to be.'" –Windier E. Megatons

"So yesterday, Andy the Big Dog had his own chair and place setting at the dinner table, and now he's packing to come along and 'help Johnny'. And where is Rusty while all this is going on? Oh, that's right — Andy ate him." –Mooncattie
Also, there are reader-submitted pictures! The first comes from faithful reader Saxman who wore his Margo!Boxcar!Saturn shirt "while fishing with a real life Mark Trail-ish fishing guide."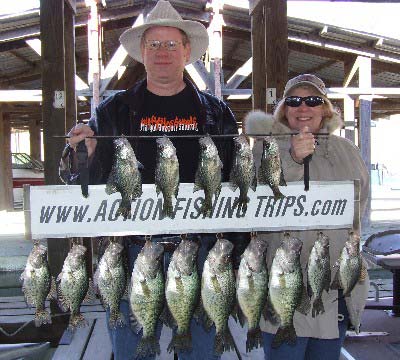 Hopefully there were no duels to the death for your wilderness adventure patronage, Saxman.
Also, faithful reader James "Kibo" Parry (really!) took my description of the mayonnaise GLOM! from Friday's Archie and made it much more real than any of us may be comfortable thinking about: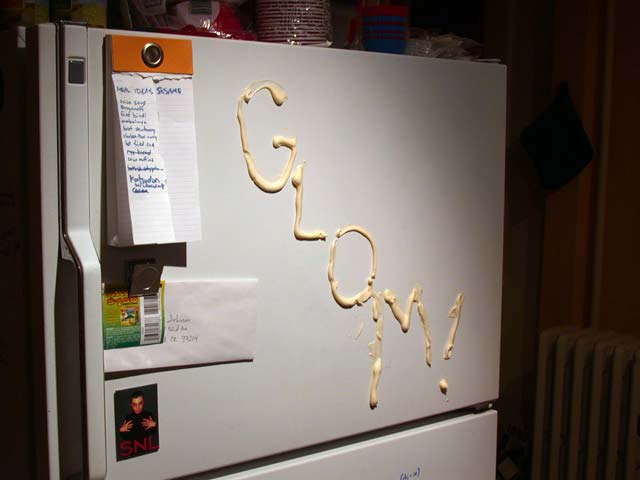 And hey, did somebody say "Let's give thanks to our advertisers?" I think somebody may have.
To find out more about advertising on this site, click here.