Post Content
Q: "Uncle Lumpy, you say you don't pick the "Comment of the week" because it's Josh's prerogative, but isn't the real reason that you're just too damn lazy?"
A: "No comment."
I have sweet metaposty goodness for you nonetheless! Faithful readers who remember last year's Gail Martin lunacy cascade (with concert t-shirt and fan wiki) will be pleased to hear that faithful reader Scott's Kalamazoo, MI-based band, New Real People, has recorded the definitive version of Tarzana Nights for the twenty-first century. While my own musical tastes run toward Fred Waring and his Pennsylvanians, the cover art alone is nine kinds of awesome: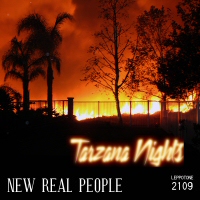 Y'all can sample and download the song here.
And in other news: I run fundraisers for The Comics Curmudgeon twice a year when I sub for Josh — not this time, though. But if you feel moved to buy Josh and Amber a round of Nardini Grappa Riserva to share at the terrace bar of the Hotel Baia Dei Mulini in Trapani as the last warm rays of the Mediterranean sunset catch the highlights in Amber's hair and the music of the surf mingles with the soft laughter of young love — well, I can't see anybody objecting, y'know? It's that "Donate" button over at the left there. Just sayin'.
And let's not forget the fine advertisers who help sustain this site:
Hip & Handmade!: Shana LOVES people who are independent thinking, unique, artistic, and never too old to have fun! Shop ShanaLogic.com for handmade jewelry, hot apparel, gear for guys, unusual plushes, and more!
The secrets of the quest: The quest is under way. Some puzzles have been solved, but greater challenge lies ahead. Show resolve, and you could find great reward. $100,000 in treasure awaits. Join if you dare. Many will try. One will succeed.
To find out more about advertising on this site, click here.
— Uncle Lumpy