Post Content
Once again, my life is vaguely beginning to resemble Luann:
Luann, 12/3/08

Yes, remember back when Brad, Toni, Sally Forth writer Ces Marciuliano, and I were all getting our pictures taken for sexy calendars? Well, those calendars are now ready for you to purchase!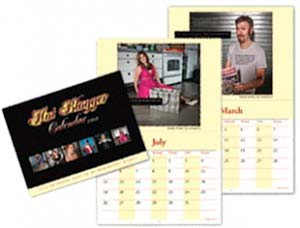 Say, who's Mr. March there in his sexy undershirt, looking like Marlon Brando without the pectorals? I THINK WE KNOW WHO THAT IS. But to get a better look, you're gonna have to buy the calendar, which, fortunately, you can do by clicking here (and I get a cut, even)! Just brace yourself for an avalanche of raw blogger sex appeal. Unlike the inept marketing team that came up with the DeGroot Hometown Fireperson's Calendar, the Hot Bloggers folks have put together two calendars — one with hot lady bloggers, and one with hot gentleman bloggers (Ces and I are in the latter). They're both ready for you at that link, so ACT NOW! For HOTNESS! There's even a bonus picture of me on the cover of the calendar and, not to give anything away, but, toilet, that's all I'm saying. Make like the understated gay couple in today's Luann and buy as many as humanly possible.