Post Content
The Phantom, 4/18/10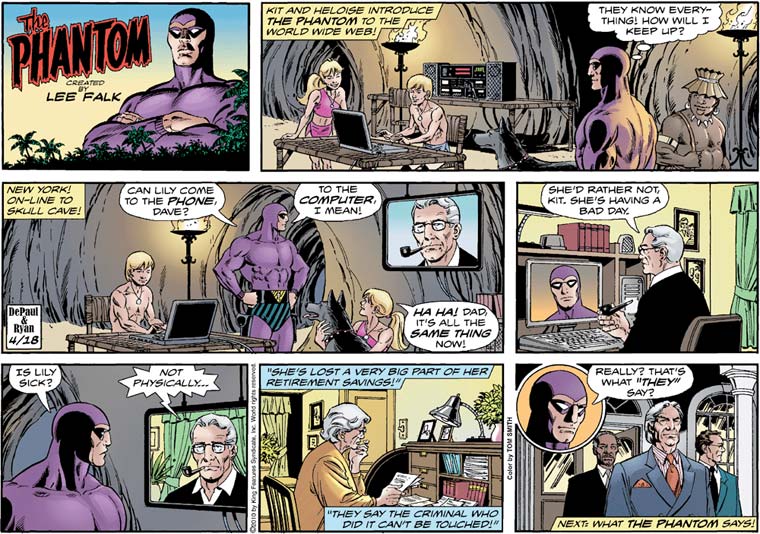 A mere 15 months after Bernie Madoff's arrest — and a mere six or so months after the launch of innovator Judge Parker's take on the scandal — the Sunday Phantom is launching a White Collar Investment Scam plotline of its very own! While Judge Parker's version ended with a notoriously dull flood of exposition, the always-saucy Phantom narration box promises us that the Ghost-Who-Doesn't-Understand-The-World-Wide-Web will solve the crisis in world financial markets with his fists and his pistol, as is his wont.
Rex Morgan, M.D., 4/18/10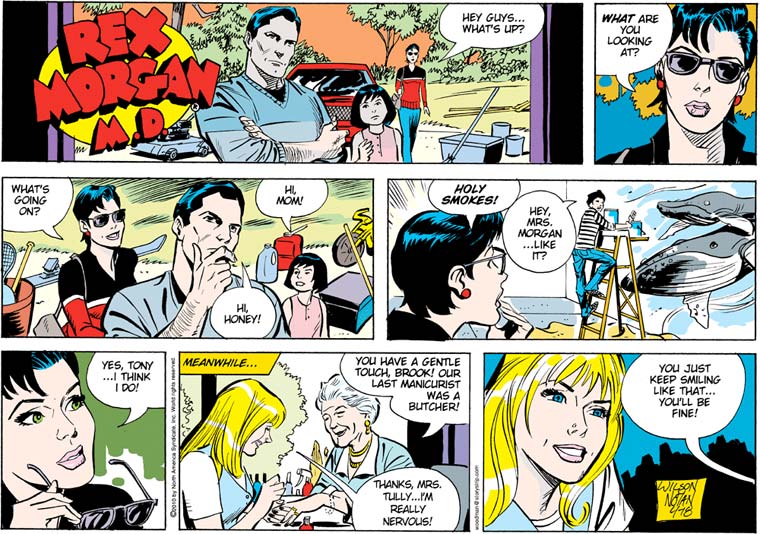 So, it looks like the Morgans' plans to forcibly drag their ne'er-do-well houseguests into bourgeois respectability are finally bearing fruit. It turns out that Brooke just needed the satisfaction of a job well done to coax out a smile that would break through her sullen shell! And Toots — or, sorry, "Tony" — is doing as he's told, plus bringing just an extremely mild dose of countercultural wackiness (uh, what are the young radical kids into? the environment? yeah, put some whales and shit up there, that's the ticket) to brighten up Rex and June's just-a-little-too-staid suburban life. Yep, it looks like everything's going to be fine, just fine, right up until Toots and Brook sneak off in the dead of night with all of the Morgans' valuables.