Post Content
Your COTW momentarily, but first: a merch pic! I know I've neglected my store of late, but that doesn't meant that faithful readers have neglected to take the fine products for sale therein on worldwide tours! For instance, here you can see faithful reader LouieLouie wearing her Molly the Bear shirt in Hong Kong. Perhaps the Buddha can help Molly understand that the hostility of others arises from their attachment to worldly things, which gives rise to suffering.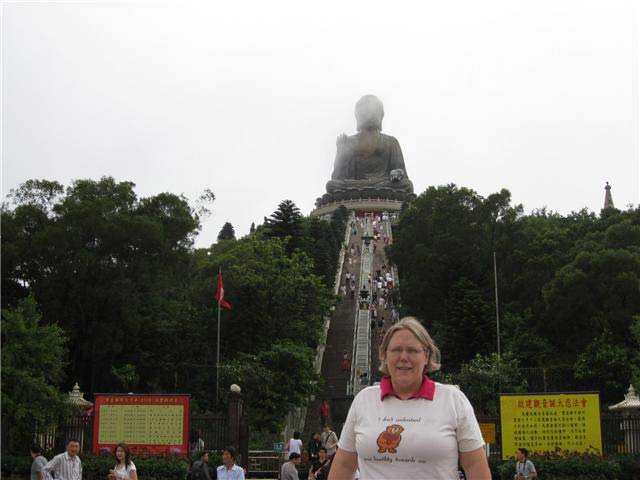 And now, without further ado, your comment of the week!
"I am really thrown by the implications of Dr. Mike's 'It's great to connect after speaking on the phone.' Are we to understand from this that at some point Mike and Jenna had a telephone conversation and they didn't show it to us? Where's the fire, there, Sparky? So far in 2010 there's been at least a solid four and a half months of watching people read e-mail, or think about e-mail they've recently read." –Violet
And the runners up! Very funny!
"So what would be the purpose of that Billy the Bookworm outfit, anyway? To make sure kids never want to read a book, ever?" –TinLizzie

"I'd rather just wear wet clothes than whatever that is Gunther has on. Wet clothes will dry, but once you wear a prosthetic penis-suit, you can never un-wear it." –Darkefang

"If tomorrow is terrified swerving and Friday is the actual impact, Funky Winkerbean is going to die on my 40th birthday. It's like God just glanced over at me and we locked gazes for a brief moment." –killercoconut

"It's called a spider-sense, MJ. Peter doesn't have a 'commotion-sense.' Does this seat recline? Ahh, yes. It does." –John Snyder

"Today's Luann is … no, just can't do it. Every time I try to concentrate on today's strip enough to snark on it, my nose starts to bleed and I smell burning toast." –Ed Dravecky

"Peter looks suspiciously blissed out for someone who's squeezed into economy class and just learned that his wife wants to fuck Iron Man. I'd like to know what drugs he's on." –Poteet

"Tom Batiuk has confused Chekhov's Gun with Orwell's Boot Stamping on a Human Face — Forever." –Spunde

"Don't you pity Margo: her glass is half-empty 'cause she's drinking from it, candy-ass!" –Uncle Lumpy

"'Hey mom! I kind of wish I felt more romantic about Gunther.' (ONE DAY PASSES) 'Hey mom! I just got to see Gunther naked, and I can't stop thinking about it.'" –Andy L

"It seems Funky has an iPhone 4! I wonder if he knows he could fix the signal attenuation problem by holding it a little differently — which would set up the next ultra-gloomy plot twist perfectly, as he attempts to pass the time waiting for a rescue by hopping online and staring into Rusty's terrible, soulless eyes." –GJ

"Given Dr. Mike's orange blazer (Go Vols!), Jenna's smudge-dress (Up yours, Big Dry-cleaning!), and their stilted, inane conversation, it's impressive that the maitre d' can maintain his professional, placid expression. But look closely at the firm set of his mouth in the second panel. He's trying to keep from weeping." –Walker of Dog

"I really can't wait until they do the talking heads interviews of Tommie's friends, and Margo and Lu Ann still are able to make Tommy's wardrobe nightmares all about them. Lu Ann: 'I think Tommy needs to start dressing hotter — not like a frigid bitch I know whose name rhymes with cargo.' Margo: 'I think Tommy would be better off if she'd steal some of my turtlenecks — like Lu Ann steals boyfriends.'" –LogopolisMike

"The Shoe afterlife is KFC." –Mac

"I am also disturbed by the message from the Beyond: 'Bring shorts.' Not only is his late wife telling him that she is in Heck, she's telling her husband that he is already damned, too. Sorry, Shoe cartoonist, but in the comics John Calvin's doctrine of predestination is funny only when linked to Thomas Hobbes's doctrine of the social contract." –seismic-2

"I think it's a Mary Worth rule that the ponytail must be in view at all times, probably as a gender marker so we don't think that Dr. Orangecrush has a date with Drew Corey in drag." –bourbon babe, unbuckled
Big thanks to everyone who put cash in my tip jar! And we must of course give thanks to our advertisers:
Hip and handmade! Cool people support artists! Shana Logic is 100% handmade & independently designed — awesome, right? Killer indie gear, including: jewelry, makeup, guys' tees, girls' clothing, yummy gifts, and great sale items too! Get 10% off with code: cute.
From NYT Bestseller Allison Brennan: The Seven Deadly Sins series! "Seductive, suspenseful and exquisitely written… a fantastic escape." –SF Examiner
To find out more about how you could be thanked in this spot, and more about sponsoring this site's RSS feed, click here.