Post Content
Mark Trail, 12/23/10

Mark Trail's superhuman power of punching is often remarked on in this blog, but what about his other, less violent talents? For instance, I feel strongly that we don't lavish enough attention on his amazing bellowing ability. In panel two, for instance, we can see that he can achieve extreme levels of bolding and large font size without even opening his mouth.
Meanwhile, in panel three, I fear that Kelly is going to become an cautionary example in an imminent lesson on boating safely, possibly in combination with an abrupt and vicious seagull attack.
Lockhorns, 12/23/10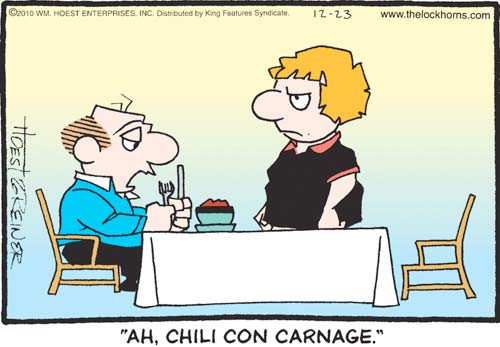 Loretta has reason to be angry at Leroy's constant belittling of her cooking, but to be fair to him, it is kind of weird that she's only brought out one portion of her blood-red chili. Presumably it's been poisoned, and she's going to force him to eat it so that she's finally rid of him; Leroy will acquiesce, out of spite, but not before he gets in a few last punny, dead-eyed witticisms at her expense.