Post Content
Barney Google and Snuffy Smith, 4/26/12

Poor Jughaid is grappling with the problem of living a righteous life in a world (and with a soul) indelibly marked with sin! "Parson sez my conscience keeps me from doin' wrong, but it ain't so" frankly sounds like it could have come straight out of a Flannery O'Connor story. However, Loweezy's simple-minded guffawing indicates that this dilemma won't end with a harrowing but ultimately enlightening revelation; Jughaid's just going to grow up to be a chicken thief, like everyone else in his family.
Mark Trail, 4/26/12

"If I can just do this without making any noise! If only there were a way for me to clarify my thoughts without speaking them aloud! I'll just have to shout them as quietly as I possibly can!"
Marmaduke, 4/26/12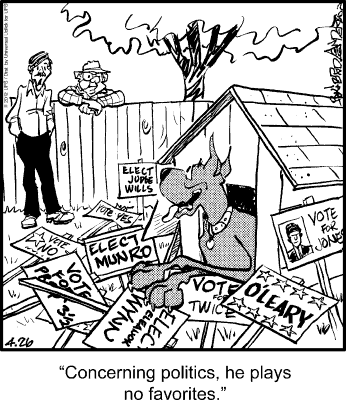 In order to cement his rule as demon-king of Earth, Marmaduke has savagely devoured all human politicians, regardless of their ideology or partisan affiliation, and has collected their campaign signs as grisly trophies.