Post Content
Click the banner to contribute to the Comics Curmudgeon. Details here.

Keeping the Comics Curmudgeon fresh and up to date is hard work! So twice a year I host a fundraiser to thank Josh for the time, effort, and talent he puts into giving newspaper comics every bit of the attention and respect they so richly deserve. And this time, we have a limited number of unique rewards for especially generous contributors — behold: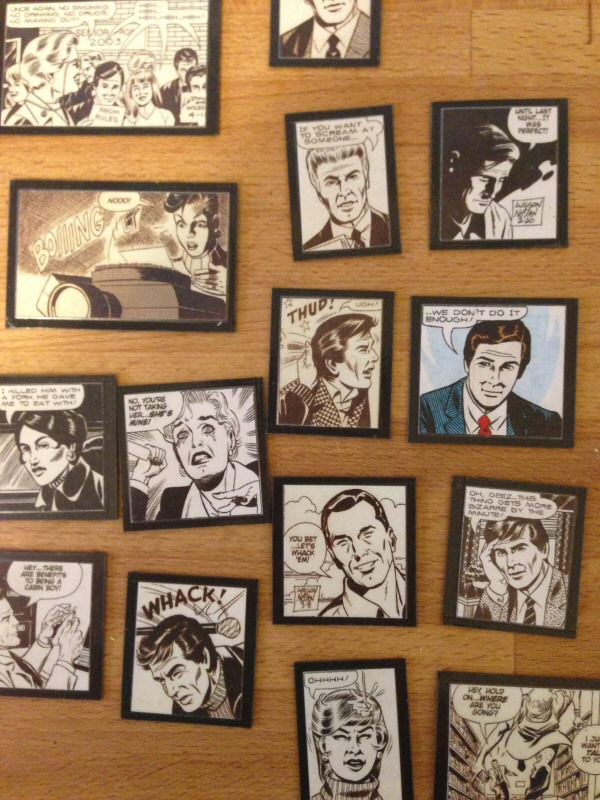 These are individual panels from Judge Parker and Rex Morgan, M.D. comic strips, lovingly selected, trimmed from daily and Sunday newspapers, and handcrafted into beautiful (and useful!) refrigerator magnets by faithful reader and comics panel hero Matt Crowe, who highlights a new classic panel every day on his Twitter feed, which you should totally check out. Thanks, Matt! The sensitive curation of this collection is apparent from even this small sample: many of the panels feature beloved JP and RMMD characters a) acting like entitled dicks and b) getting hit on the head with stuff.
Because of their limited availability, magnets (or at the contributor's option, Margo bracelets from the Fall 2009 fundraiser) are available for contributions of $15 or more. If we run out of both, $15 contributors will receive a signed copy of one of Josh's favorite panels from this year's comics, matted and suitable for framing. Of course, contributions of any amount are warmly appreciated, and every contributor will receive a personal thank-you note from Josh, and our sincere gratitude.
To contribute by credit card or PayPal, click the banner at the top of the page and follow the instructions on the secure PayPal site. To contribute by check or money order, email uncle.lumpy@comcast.net and I'll reply with an address. Full details here, along with an index to the banners in rotation at the top of the page and from previous fundraisers — almost 400 in all!
Thank you, generous readers!
---
— Uncle Lumpy