Post Content
Rex Morgan, M.D., 5/28/15

Welp, after some negotiations with Nancy's family and Kelly's mob lawyer, we've figured out what Nancy's punishment should be: Nancy is now in charge of making sure Kelly's car isn't damaged further. The bullying stops today! Unless she needs to use violence or the threat of violence to keep people from damaging Kelly's car. Then she should bully as much as she needs to. The car is the important thing. She's got to protect that car by any means necessary or everything that's important to her gets taken away. I'm beginning to think that Kelly has found herself employed by the right organization.
Dennis the Menace, 5/28/15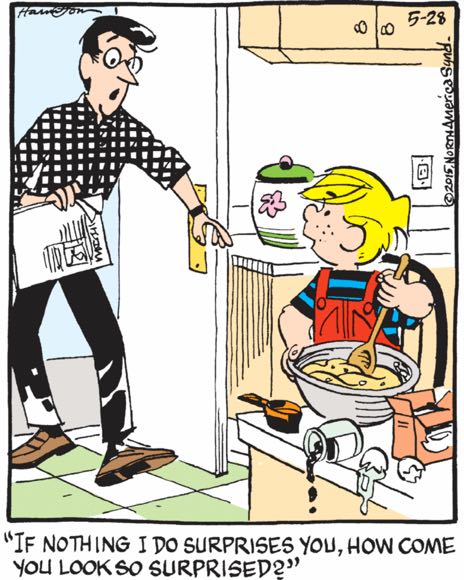 You might think that by teaching himself to cook so he doesn't have to bother his parents for treats, Dennis is being extremely non-menacing. But then, what's more menacing to a parent than learning that his child doesn't need him anymore? A+ power move, Dennis.