Post Content
Click the banner to contribute to the Comics Curmudgeon. Details here.

Well, it's that time again! Once or twice a year, I host a fundraiser so fans of the Comics Curmudgeon can thank Josh for the time, effort, and talent he puts into it every day.
A bit of history here: In 2004, newspapers moving news and features online discovered they couldn't necessarily take syndicated comics along. King, Creators, Tribune, and other syndicates were finding their own ways to license, package, and monetize their comics online. But the uncurated, fragmented online experience that resulted just wasn't the same as sitting down at the breakfast table, snapping open the paper, and snorting in derision at For Better or For Worse, Mutts, or Mary Worth.
Into that breach stepped dyspeptic Baltimore ginger Josh Fruhlinger, who created an authentic comics-mocking experience for the 21st Century. It started modestly and faced many trials, including disruptive, near-fatal behind-the-scenes changes by The Houston Chronicle, Google, WordPress, comics syndicates, and a global army of spammers. But with determination, creativity, and a growing complement of paid outside IT and design services, Josh has prevailed — so far.
Please help him keep that going, with a generous contribution. Even if you haven't contributed before, consider sending an amount proportional to the enjoyment Josh's work has given you over the past year — I bet it's a lot! If it turns out to be $25 or more, you'll receive a stylish and practical Comics Curmudgeon tote bag in addition to Josh's personal and effusive thanks: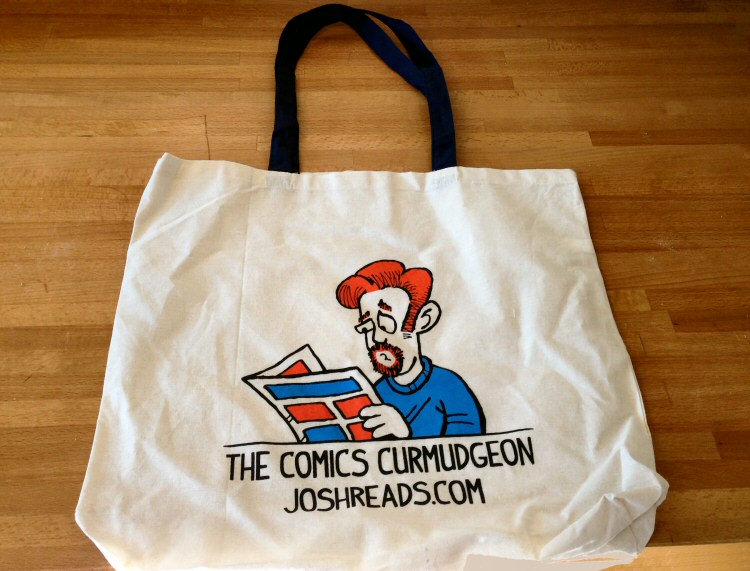 To contribute by credit card or PayPal, click the banner at the top of the page and follow the instructions on the secure PayPal site. To contribute by check or money order, email uncle.lumpy@comcast.net and I'll reply with Josh's brand-new Los Angeles address. Full details here.
If you'd prefer to browse through the directory of banners instead of playing Refresh Roulette, you can find it here, along with more than 500 banners going back all the way to 2008.
Thank you, generous readers!
— Uncle Lumpy