Post Content
Click the banner to contribute to the Comics Curmudgeon. Details here.

As regular readers know, I host fundraisers once or twice a year to support the time, effort, and talent Josh puts into the Comics Curmudgeon. There's even more to support this time around — behind the scenes, Josh and his IT Department Adam Norwood are upgrading, tuning, and expanding the site to:
Redesign it for improved readability and efficiency, especially on mobile devices
Accommodate feedback and recommendations from last month's Reader Survey
Review commenting functions and improve them where possible
Add unspecified but potentially exciting new features!
Please help out with a generous contribution. Even if you haven't contributed before, consider sending an amount proportional to the enjoyment Josh's work brings into your life — I bet it's a lot! If it turns out to be $25 or more, you'll receive a stylish and practical Comics Curmudgeon tote bag in addition to Josh's personal and effusive thanks: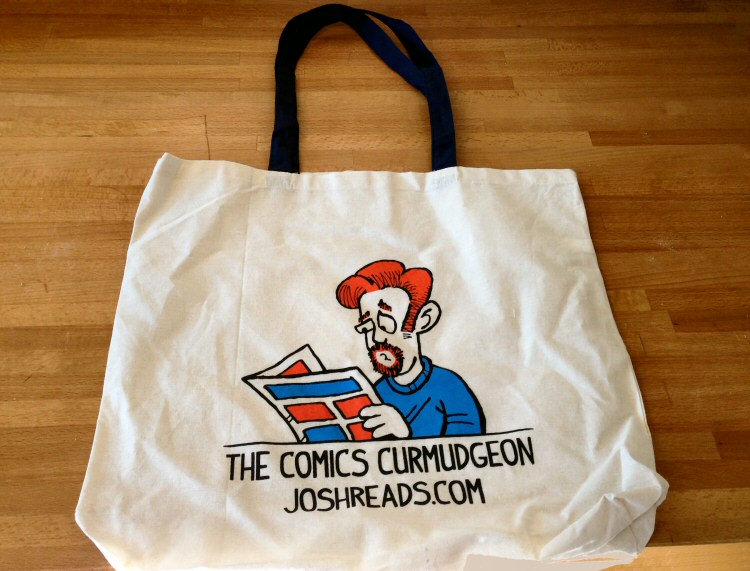 Contribute however you like:
By credit card or PayPal — Click the banner at the top of the page and follow the instructions on the secure PayPal site.
By mail — Email uncle.lumpy@comcast.net; I'll reply with an address for your generous check, money order, or in-kind contribution.
NEW Patreon sponsorship — If you'd prefer to support all of Josh's artistic/comedic efforts on a "set it and forget it" recurring basis, visit his new Patreon page for complete details of this new option. A pledge of just $2 per month qualifies you for a CC tote bag.
Full details, terms, and conditions are here.
The banners at the top of the page are selected automatically on a kinda-random basis. If you'd prefer to browse through a directory instead of wearing out your Refresh finger, you can find one here, along with 500+ banners going back to 2008. I've wasted hundreds of hours on these — join me!
And thank you, generous readers!
— Uncle Lumpy