Post Content
Not to horn in on the excellent schtick of Comics I Don't Understand, but … there are three comics today that I just … don't understand. Perhaps you all can help me.
The Lockhorns, 8/11/05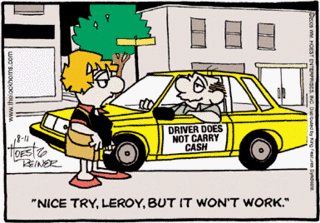 So this is no doubt another small, passive-aggressive skirmish in the Lockhorns' long-running war over money. I suppose the point is that by putting the sign on his car (after no doubt stealing it from the battered pick-up truck of some hapless pizza merchant), Leroy is trying to put a stop to Loretta's wild spending habits. In so doing, he's throwing back in Loretta's face one her chief complaints about him — his inability to support her in the lifestyle to which she'd like to become accustomed. What I don't understand is his facial expression — in this strip, the crooked smile and mussed combover hairs are usually indicators of drunkenness. Maybe here it signifies the shameful bravado of his making a defiant act of aggression out of his low-earning status. There's another fatal flaw in his plan, of course, which Loretta seems to have recognized. You've got to get out of the car sometime Leroy, and when you do, that paltry paycheck is hers.
Willy 'n Ethel, 8/11/05

OK, so The Lockhorns I mostly got after thinking a little bit about it. This one, however, is a little more opaque. There's a lot of content here — a potentially humor-rich environment in which some kind of joke might lurk — but such a point is difficult to suss out. Ethel's punch-card of deceit is inherently amusing, of course, but I've tried coming at Willy's response to it from a couple of different angles and none of them quite work. Is he saying that if she ran a pizza parlor and left town after filling up a punch card it would be bad for business? Or that if she were running a pizza parlor he wouldn't be able to stop himself from lying and thus filling up the card? Or that giving away free pizzas to liars is an unpromising business model? You've won this round, Joe Martin … but the war's not over yet, I promise you that.
Marmaduke, 8/11/05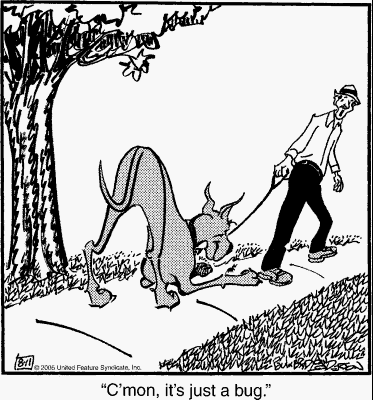 Sometimes, I don't get the joke. Sometimes, I'm pretty convinced that there's no joke to get. Marmaduke's going for a walk. He stops to look at a bug. His annoyed owner, longing for the comforts of his slippers and his easy chair, wants Marmaduke to hurry up and move along. That's it. Where's the joke? Where's the humor? Well, aren't you demanding! If you aren't satisfied with vignettes like this, the little grace notes of living with a big dog, then you don't deserve to enjoy Marmaduke.