Post Content
OK, so I was planning on pounding out comics entries until the bitter end of the week, but it turns out that I can't. So, this will be the last entry of 2005. We're departing for our various wacky Christmukkah journeys tomorrow and won't be back for a while, so this will have to sustain you until January 2. Ladies and gentlemen, I give you: Morons in berets … on parade!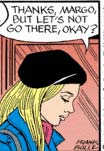 Other than that, I got nothin', comics-wise.
I do, however, have something that I've been planning for a while that you might enjoy: Josh's blog-n-alternative-comics roundup! First, the blogs. Unlike many bloggers, I don't have a "blogroll" of favorite links in my left-hand column. This is because my left-hand column is already too damn cluttered, plus I think I'm better than everyone else. But for those of you who are interested, here are some blogs that I read regularly and that anyone who's anyone should also read:
And then, of course, there's comics. My schtick here is all about the newspaper funnies, but there's a bevy of comics I read online that you won't see in the daily news:
So that's it for me for 2005! It's been a swell year, and I hope you and yours have a happy end-of-year celebration of your choice. See you in 2006!