Post Content
This past Saturday, not one but two meetups of Comics Curmudgeon readers took place on opposite sides of this fair continent! We'll show pics from both, and move from west to east to combat rampant east-to-west bias in our media. The first report comes from California, from faithful reader Spotted HØrse:
Josh, here's photographic proof that the Nor-Cal/Bay Area mudges have met! We'd like to remind the CC Community that if you'd like to represent as your handsome selves, rather than as minute, blurry, and isopod-pink beings, then for God's sake, bring a real camera! Mudges shown are the Clan Handbasket, with Amy, Helena, and Misha; Moon Mullins in the back with Margo!Boxcar!Saturn! tee; and Spotted HØrse on the right.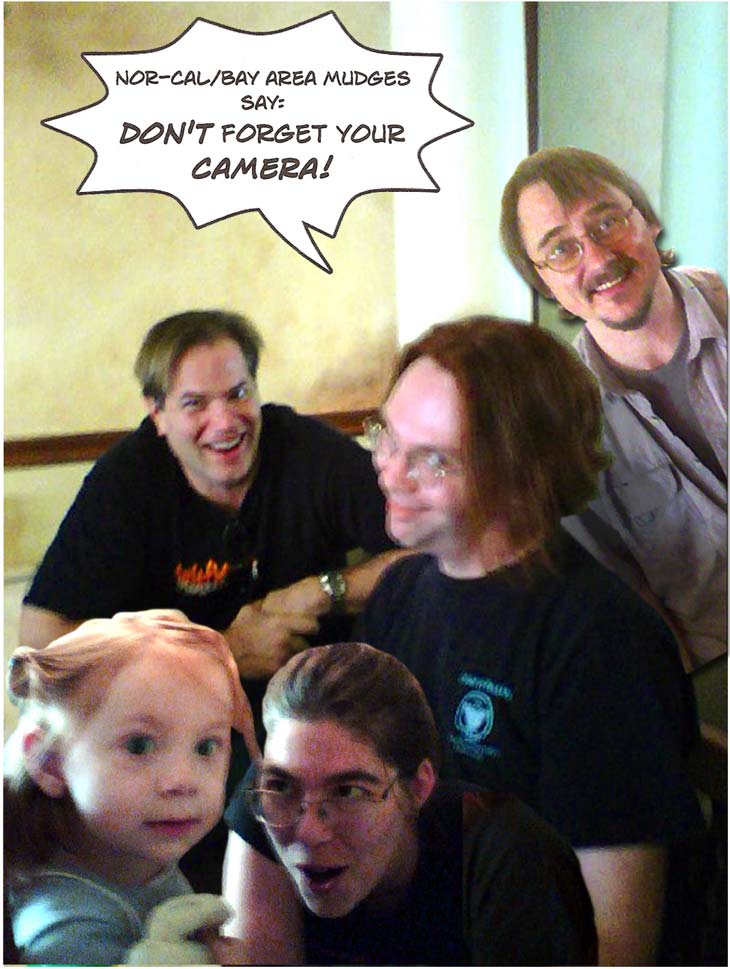 Our correspondents from the great metropolis of Toronto did bring their camera, and took a number of charming pics to accompany their narrative!
We arrived in time to witness Galactic Emperor Chennux's attack upon Lynn Johnston's "Star" on Canada's Walk of Fame, using a fearsome combination of weaponry — an authentic Margo!Boxcar!Saturn mug and a rare First Edition of Stone Season by author and writer Michael Patterson.
Sadly, due to a miscalculation in scale, the Emperor's attack failed to dent the mighty Canadian, but a celebration of Comics and Curmudgeons in the Elephant & Castle Pub across the street proved more successful. Pictured in the Pub, from left to right, are Skullturf Q. Beavispants, Daisy-Head Mayze, Mooncattie, and Toronto. We offered a toast westbound to our CC buddies meeting up at Stacy's in Northern California at that very moment!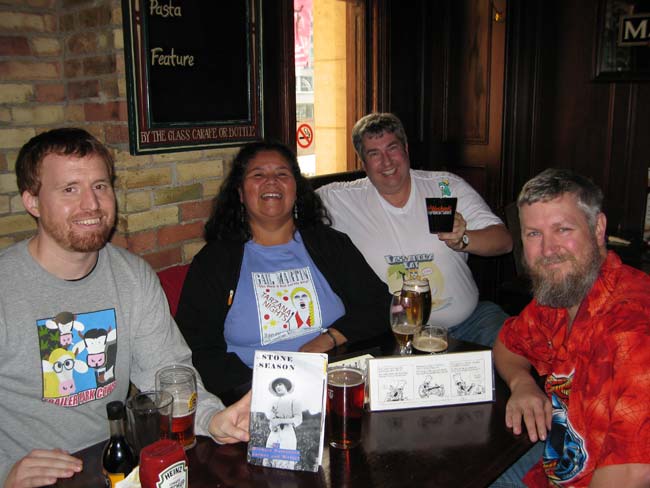 Back outside, we see (from left to right) Toronto, Skullturf Q. Beavispants, and Mooncattie posing bravely by Lynn Johnston's "Star".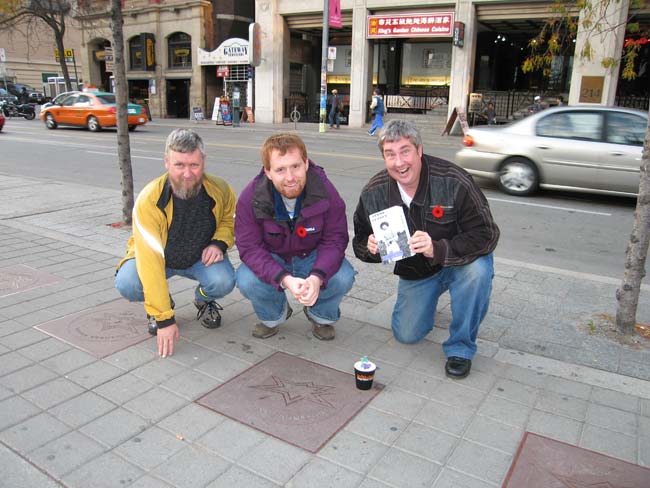 So charming, the lot of you! Remember, more information about meeting up with your fellow fans can be found on the Internet — specifically, in the section of the Comics Curmudgeon forum set up for that purpose!