Post Content
This past Friday, I had a very agreeable meetup at Tucson's Kon Tiki with a slew of Comics Curmudgeon readers! A fun time was most definitely had by all, as the following photos should demonstrate beyond a doubt. Let's start with the big group shot: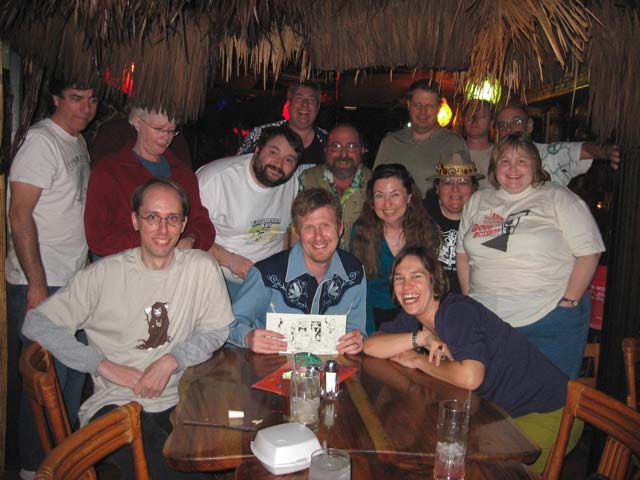 Up front, you have Trilobite, me, and my lovely wife Amber; in the row behind that you have Bob Weber, Jr., The Divine O'F, KT, Mr. Bats :[, Fran Ledue Page, Bats :[, and Mountain Momma; and behind them you have The Divine O'F's husband Rocko (face sadly obscured by overhanging tiki ambience), Mooncattie, Jimmy, Garrett, and Wood.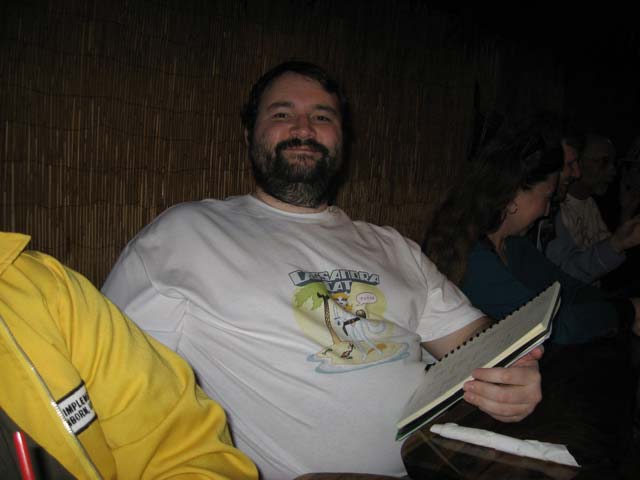 KT here is looking happy in his Cassandra Cat shirt and holding his book of his own cartoons. He drove all the way from Houston to attend, and shockingly he wasn't even the one who came the furthest!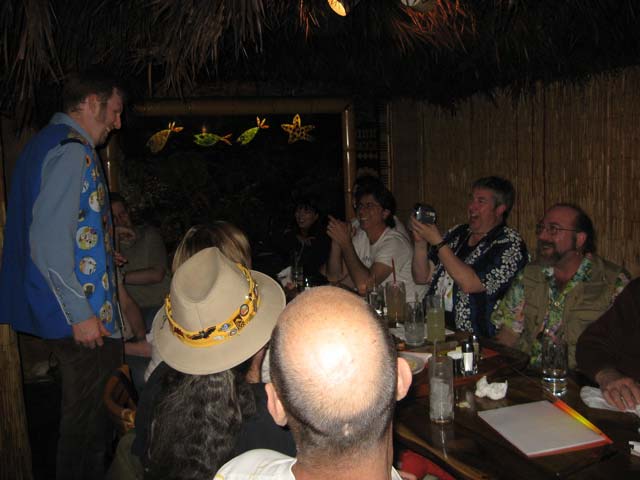 That honor goes to Mooncattie, seen here with his video camera, who flew all the way down from Toronto, Foobonia, to spend a week in the Arizona sun. Will the video of me giving a little speech in a Family Circus vest (more on which momentarily) hit YouTube? Only time will tell!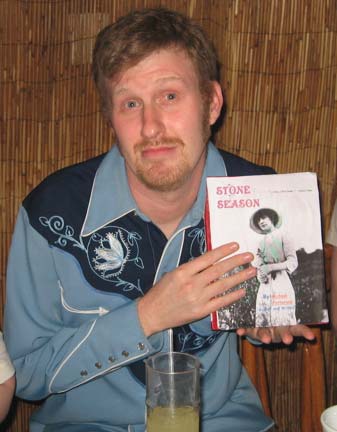 Mooncattie also brought Canada's greatest literary product, Michael Patterson's Stone Season, as a gift. Actually, this was much, much better than the actual Stone Season, since it was mostly blank — except for individual Comments of the Week from last year pasted on each page!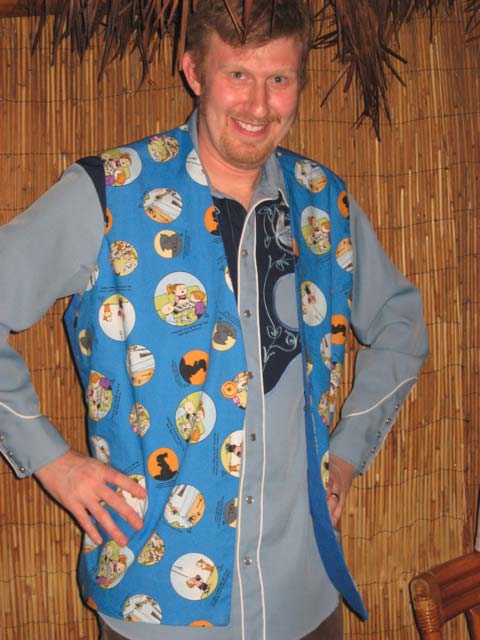 So, about that vest … Bats :[ discovered some fabric emblazoned with classic religiously themed Family Circus cartoons. Naturally, she turned into a vest that she presented to me as a gift. The best of the cartoons features Dolly declaring that "Heaven is a great big hug that lasts forever." It was determined that, as per this classic Dinosaur Comics, this sounds unspeakably creepy when you whisper it.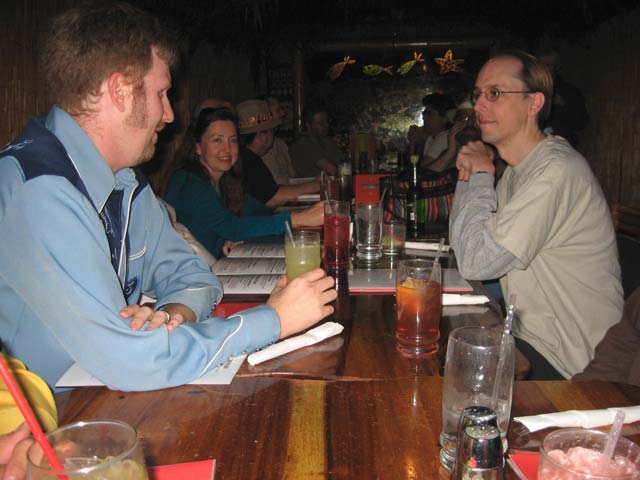 I tried my best to get around and chat with everybody. I thought this was a good pic of Fran and Trilobite; the latter looks kind of pensive, even though I'm pretty sure that at this point he's telling me about his storied history of consuming alcohol at the Kon Tiki. (Unlike KT and Mooncattie (and everyone else, really) Trilobite was actually able to walk to the bar from his house.)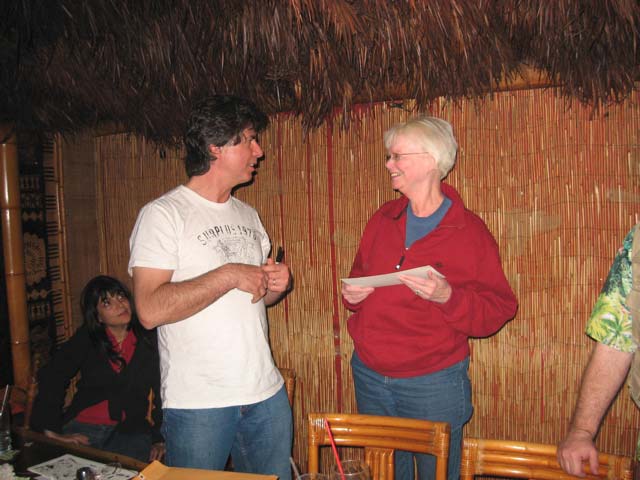 Here's a nice pic of the Divine O'F chatting with Bob Weber, while the latter's wife looks on affectionately. Bob was obviously much beloved by all in attendance, and naturally turned out to be a superstar of friendliness! He even brought super-cool original Slylock Fox art for everyone who came! Ms. O'F is holding hers in this picture, and here's a photomontage of others of us and ours: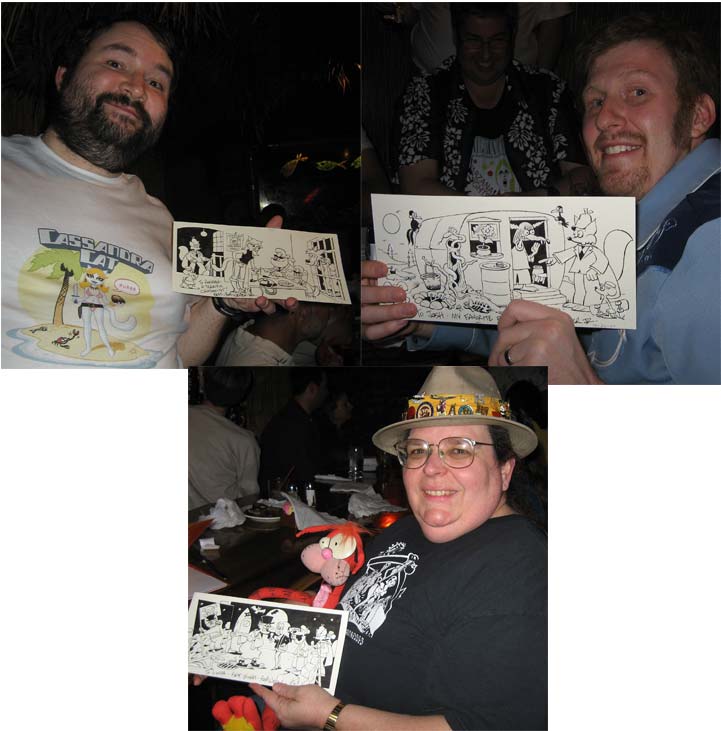 Bats :[ scored a Count Weirdly cartoon; I got one featuring Reeky Rat, whose virtues I had been extolling mere moments before Bob revealed the goodies he had brought for us; and KT ended up with a Cassandra Cat number — appropriate, since he was the crazed genius behind a certain bit of Slylock/Cassandra bootleg art you might remember.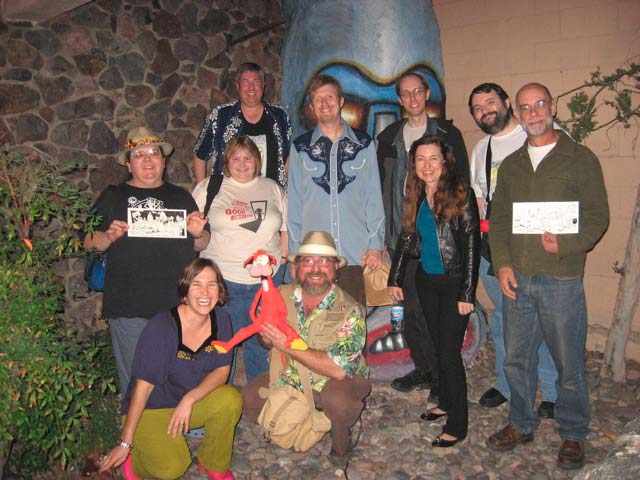 I loved hanging out with all of you! A few folks had to leave early, but here's a great picture of the rest of us worshipping the tiki god, or at least grinning in front of it. Thanks to everyone who came! I will definitely be planning more events like this in the future, I think.
Anyway, due to the travel and the guest-blogging and the hey hey, I'm going to let Darkefang's reign of COTW terror continue for another week. But still, we must, as is our practice, give thanks to our advertisers:
To find out more about advertising on this site, click here.