Post Content
Mary Worth, 4/10/08

So, to the surprise of absolutely no one, Mary is starting to get her meddle on in earnest with this poor dying old woman, and … AAAAH! WHAT IN GOD'S NAME IS SHE DOING TO DONNA AMALFI'S HAND? You might think she's just offering a moment of human kindness to a patient, but cast your mind back to one of Mary's first real meddle sessions with Vera last year:

Obviously, Mary uses some kind of diabolical finger-manipulation technique to open the minds of her victims up to her hateful, counterproductive suggestions. RESIST, DONNA! RESIST WITH ALL YOUR MIGHT!
Dennis the Menace, 4/10/08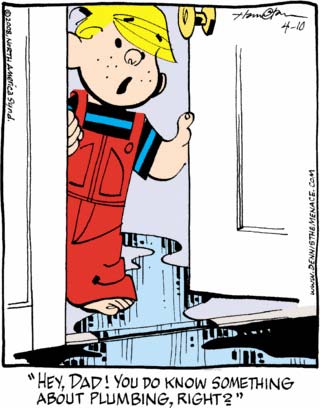 Oh look, Dennis is walking barefoot through raw sewage. And, as is his usual wont, he'll no doubt track through the house. Delightful little scamp!