Post Content
Barney Google and Snuffy Smith, 5/30/10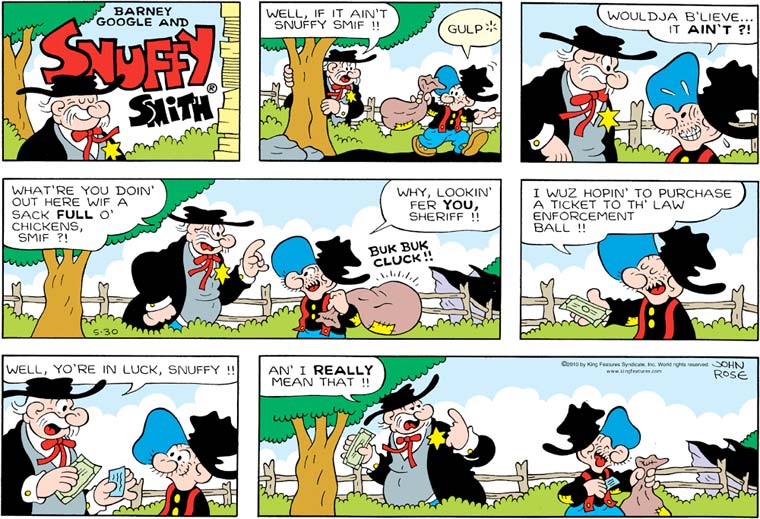 Snuffy is admittedly improvising under pressure here, but I'm a little disappointed at his excuse-making's failure to cohere into a satisfying whole. Since he was questioned about his intentions for that sack full of live chickens, surely all concerned could better pretend at the virtue of the situation had the subsequent bribe been offered in chicken form. Indeed, I've assumed that poultry is more or less the main currency in Hootin' Holler anyway, a suspicion that is confirmed by the somewhat dodgy appearance of the note Snuffy is handing Sheriff Tait. It certainly doesn't resemble a U.S. greenback, which makes sense as those probably haven't been seen around town since the local TVA office closed down. My guess is that this is a piece of scrip issued by the operators of the nearest coal mine; though the mine and the accompanying company store have also been shuttered for decades, Hootin' Holler residents still atavistically ascribe value to the crumbling pieces of paper.
Crock, 5/30/10
I'm also interested in how exactly the local economy works in Crock. There doesn't seem to be any kind of permanent settlement associated with the strip's Foreign Legion outpost, just a series of isolated retail establishments created as needed to support the lame joke of the day. I guess it's understandable that the employees of "Dress Shoppe," having no competition in the clothes trade, lack any sense of customer service. Maybe the next shop will do better, now that Grossie has destroyed this one.
Panel from Mary Worth, 5/30/10

EMERGENCY! EMERGENCY! THE INDIVIDUAL KNOWN AS "BONNIE" (indicated) HAS HAD HER SOUL COMPLETELY DEVOURED BY MARY WORTH! SUGGEST IMMEDIATE MERCY TERMINATION OF HER UNDEAD CORPOREAL FORM!