Post Content
Mark Trail, 7/26/10

Ha ha, dognapper! Mark Trail and Officer Murphy have used technological wizardry to track your ransom call back to your home! Dognapping being a crime of the most heinous nature, they don't need any warrant from any fancy judge in order to rip your house to pieces looking for the poor mutt! In fact, since this is a "ticking time bomb" scenario (who knows what horrors he has planned for that dog, or for America?), they're well within their rights to torture you, by letting loose that horrifying demon-thing at the lower left of panel two! Let's take a closer look at this gap-toothed, bug-eyed monster, shall we?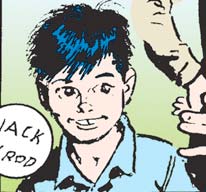 Yes, we can see why you wouldn't want this little demon in your house, screeching and clawing at the faces of your wife and family. But I guess you should have thought about that before you became a crime suspect, crime suspect!
Apartment 3-G, 7/26/10

In panel three, it's clear that Tommie has become far too accustomed to the abuse that everyone heaps upon her, as it appears that she's decided to save everyone a lot of time and just punch herself in the face.