Post Content
Six Chix and Marmaduke, 10/5/11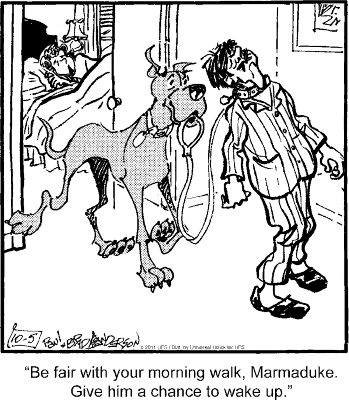 I was pretty sure that today's frankly S&M-themed Six Chix was the most perverse thing I'd see on the comics page today. Then I saw Marmaduke, and remembered that looking at Marmaduke is always like looking down a long, dark tube, at the end of which is the most terrifying hell you can imagine. It's funny because he's got melted-faced zombie Hitler on a leash, you see! Makes our cute li'l ginger dominatrix and her shirtless slave look positively wholesome.
Barney Google and Snuffy Smith, 10/5/11

Speaking of unspeakable perversity, this strip would be bad enough if it were just about a pig who understood both English speech and the fact that she would be someday killed, dismembered, and eaten. But the fact that someone has added a prettifying bow to her head makes me all the queasier. Are we supposed to think that Lukey can't bring himself to turn her into delicious pork because he's bewitched by her beauty? What of the cheefully oblivious non-bowed pig who makes an appearance in panel two — does he know what awful things his fellow swine has to do, just to keep the two of them alive?
Slylock Fox, 10/5/11

2) The human hair that right now is lying on your head in a great, heavy heap is dead, dead, dead, and is basically a part of you that's already a cadaver. Answer — 2) True! Your whole body is covered with death! Remember, kids, be sure you have plenty of Bactine on hand before you start screaming and pulling out all your corpse-hair in huge, bloody chunks.