Post Content
Funky Winkerbean, 8/18/12

Hey, Comic John — that was you whining to Funky about your sex life Monday, right? So maybe you could find some way to comfort your wife and assure her that in your eyes she's no three-year-old, but a desirable, capable, undeniably adult woman? Perhaps some kind of cooperative adult activity, suitable for the place and time, that would help restore her confidence and could actually work out pretty well for you, too?
No? You're going with the cheap putdown instead? OK, then — on with the glasses and down the hall: that copy of Power Girl #18 ain't gonna stain itself, you know!
Rex Morgan, M.D., 8/18/12

This would be just another episode of "Rex exploits rich old ladies for stuff", but for two things. First, this old lady is Melissa Claridge, for fifty years a straitlaced hypochondriac who berated Rex for his indifferent courtship of June. Here's "old" Melissa schooling her lying niece Heidi, thanks to the careful scholarship of Lena Delle at In Search of Rex Morgan, M.D.:
Rex Morgan, M.D., 10/16/1971

Yes, that's old June, née Gale, in the first panel.
The second thing about today's strip is that look on June's face in the third panel — of what, exactly? Avarice, which passes for lust in her loveless, superficial life? Maybe, but I like to think it's hope — of escape, of a normal vacation free from menacing floodwaters, shipboard plague, or psycho boyfriends just this once — or maybe for a return to those sweet old days when despite all Melissa's prodding Rex stayed far, far away from her.
Barney Google and Snuffy Smith, 8/18/12

And Grampy has had a long long life, wasted trying to dull the misery of his empty marriage with porn and likker. Everyone finds this hilarious.
Love Is, 8/18/12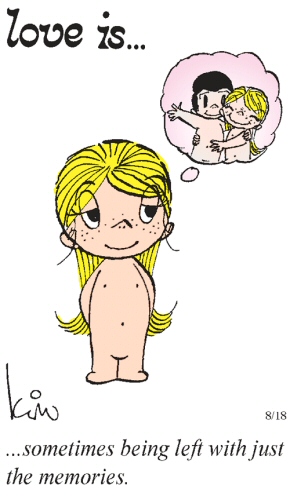 Heh, heh — it's funny because DEATH.
---
Hey, Josh is off-grid for the week at his Secret Writer's Retreat in the Northern Part of the State. Reach me at uncle.lumpy@comcast.net with site issues, spam alerts, etc.
— Uncle Lumpy