Post Content
Blondie, 4/28/14

Haha yes but … that's a lamp, right? With a little antenna on it? The joke is that she's pretending it's a "conversation piece" art object but she really just went and bought a lamp with maybe a radio alarm clock in it? That's the joke? Because otherwise the Blondie artist was faced with the challenge of drawing something truly strange, an baffling object sure to inspire conversation among everyone who catches a glimpse of it, and ended up drawing a combination desk lamp/clock radio. And that would be sad.
Pluggers, 4/28/14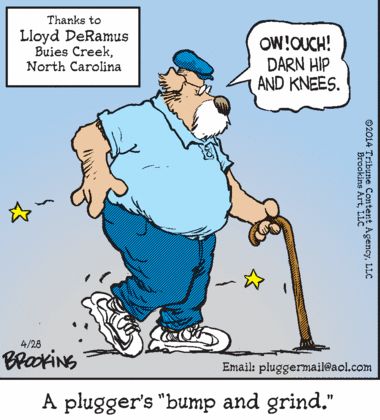 I was willing to tolerate Pluggers using a vaguely suggestive phrase as a caption for a cartoon depicting wholesome gardening activities. However, today's panel, in which the sexual ecstasy young people enjoy on the dance floor is cruelly contrasted with their bodies' inevitable decay into an aged state where even walking is an agony, goes too far for my taste.
Apartment 3-G, 4/28/14

At last! The Margo we know and love is back! The Margo we know and love is a violent sociopath willing to resort to kidnapping or worse to impose her vision of correctness on her social circle and even her closest friends. Hope you were aware of that when you decided to know and love her! You're in it for the long haul now.