Post Content
Spider-Man, 9/26/14

When we last saw our hero, THE AMAZING SPIDER-MAN, on this blog, he was he was swinging his way into Doc Ock's lab. Since then he was immediately captured and subdued with nearly no struggle whatsoever, and, in today's panel one, has glumly resigned himself to death. But wait! Remember a few weeks ago, when THE AMAZING SPIDER MAN!!! broke into Ox's jail cell for a little interrogation? Well, it turns out that he did a bad job of fixing the bars he bent to get in, allowing this dangerous, violent criminal to escape! And now said criminal is going to solve our hero's problems for him and save his life. So, to review: actually attempts at heroism result in failure, while victory is achieved entirely accidentally, thanks to really awful negligence. THE AMAZING SPIDER-MAN!!!!!!!!
The Phantom, 9/26/14

Speaking of continuity strip superheroes and negligence, I've been totally negligent in keeping you up to date on the current Phantom storyline! It's been pretty boring so far, honestly, but today's strip, in which the Ghost Who Walks vows to ignore the snake venom coursing through his veins in order to heroically plant evidence on someone, is worth pointing out.
Pluggers, 9/26/14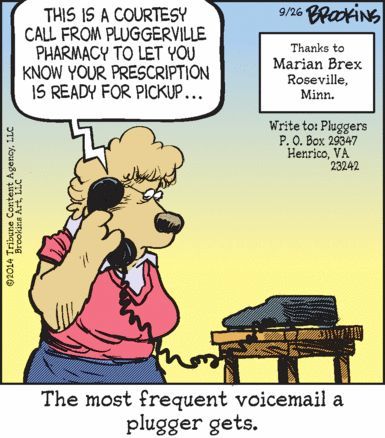 Pluggers are on a lot of pills, you guys. A lot of pills. They also don't have any friends!