Post Content
Slylock Fox, 5/26/15

You know, for too long I've thought about the transition from human to animal rule in Slylock Fox in terms of revolutionary violence. But perhaps I'm mistaken. Look at the episode in today's Six Differences: maybe the revolt began not with acts of carnage, but acts of love, as newly sapient animals freed their dear ones from enslavement. Like all oppressors, of course, the gentleman holding the leash doesn't see it this way; he's furious because he can only understand that his own previously unquestioned authority is now under threat. The Great Change did entail violence, of course, but maybe the animals didn't initiate it.
Apartment 3-G, 5/26/15

Oh hey, remember Margo's ex-boyfriend Greg, who plays James Bond? Well, here he is, the guy playing one of the most high-profile characters in the movies, just wandering around the streets of New York sans entourage, ready to bump into Margo and make small talk with her about her agency, which … you know, I sort of thought that Greg had been Margo's client? Of course, she's a terrible publicist and all, but probably even she'd be smart enough to advise him not to ruin his Bondian cred by appearing in public wearing a green jacket. Anyway, on the surface, this may look like the same kind of disconnected dreamscape conversation Apartment 3-G's been mired in for months, but replying to your ex-lover's "Have you missed me?" with "It's lovely to see you" is from my point of view a delightfully sick burn.
Heathcliff, 5/26/15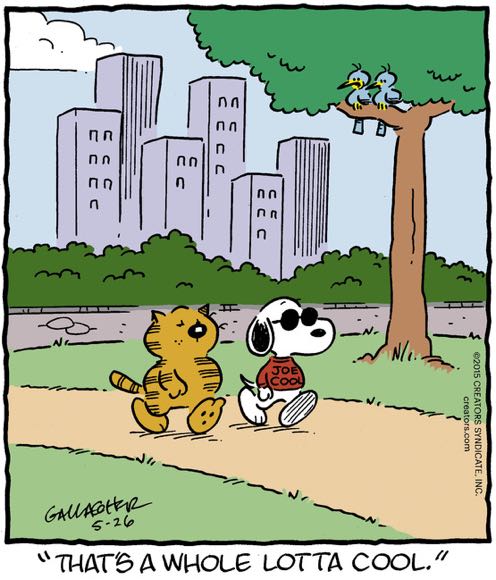 Dear Heathcliff and Creators Syndicate: you can't just make a character cool by having him stand next to another character widely considered cool and then have a third party say "That's a whole lotta cool." That's not how being cool works!