Post Content
Curtis, 9/19/15

OK, I'm going to be nice for a minute: I genuinely like Barry's expression in panel one. I totally missed it the first time I read through the strip, but once I got to his line in the last panel, I went back to check and, sure enough, there he is, trying to wordlessly warn Curtis of impending doom. It's a funny call-ahead that I'll bet most people miss and it's also a cute facial expression in its own right. Panel three, though? Where Barry's tiny hand can't cover his vast and suddenly featureless expanse of face? That one's a little more off-putting.
Beetle Bailey, 9/19/15

Speaking of evocative facial expressions, Beetle Bailey's art is probably most kindly described as "simplistic," but there is genuinely a lot of emotion packed into that bartender's face in panel two. "Ha ha, this is … just a little game we play! I'm definitely not enabling his terrible alcohol problem and participating in the decades-deep web of passive-aggressive moves and countermoves within his marriage. Right? Being a bartender is OK morally, right? I really need this job!"
Herb and Jamaal, 9/19/15

I love that Rev. Croom has saved his little quip in the last panel for a thought balloon. It's like, this could've been a great natural conversational opportunity for him to minister to Herb and maybe expand his parishioner's understanding of religion, but, fuck it, he's on his lunch break, you know?
Pluggers, 9/19/15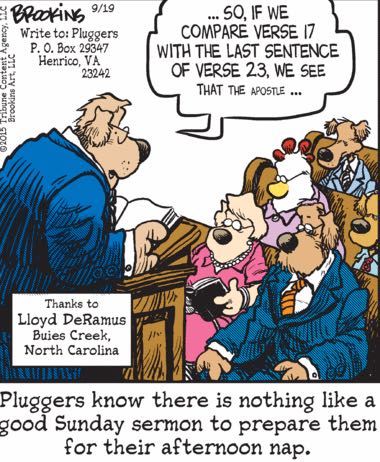 WELP HERE YOU GO PLUGGERS HATE CHURCH AND THEY HATE JESUS HERE'S ALL THE PROOF YOU NEED