Post Content
Family Circus, 11/11/15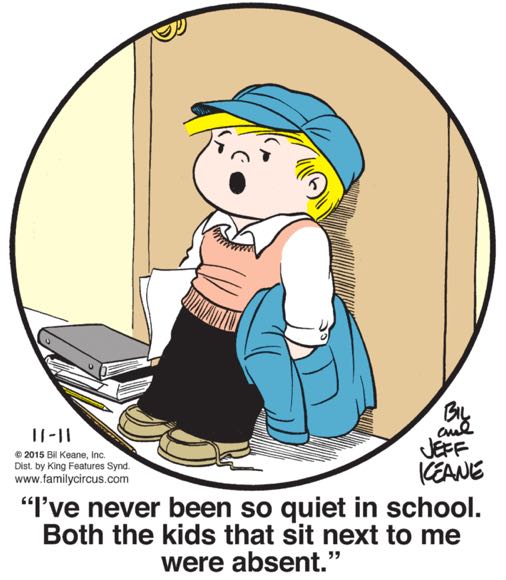 The "Keane Kid looks disheveled and drops his stuff on the ground and leans back on the door as he arrives home from school" is a bit of visual shorthand for "tough day" that the Family Circus deploys a lot. I've always had minor practical gripes with it (don't the kids all come home from school together? are Jeffy and Dolly outside pounding on the door trying to get in?) but today it occurred to me that it also kind of looks like Billy has run desperately into the house and is trying to keep out someone — or something. Something that stalked and devoured the children sitting on either side of Billy in his classroom. But he made it out alive, by remaining absolutely silent.
Spider-Man, 11/11/15

So this lady who straight-up bashed in the Atlantean guard's helmets with a club of some sort is … just some random doctor? Who wanders the docks of New York, looking for fish-children to forcibly rescue? I did a cursory Google search for "Liz Bellman" and "marvel" and have satisfied myself that this isn't the secret identity of some random long-standing Marvel superhero/villain who I'm not familiar with but who will be starring in a Netflix original MCU series in 2017, but please be sure to correct me in the comments if I'm wrong!
Marvin, 11/11/15

Marvin, you're starting a bank to bilk babies out of money they don't have and your hobby is shitting yourself. Please don't try to pop-shame your father.