Post Content
Marvin, 3/18/16

Sure, we make fun of Marvin for the poop jokes a lot around here, but definitely worse than the poop jokes are the jokes about how Marvin and his fellow babies have romantic lives. At least pooping is a normal and healthy thing babies really do! Gross, but normal and healthy! This week's storyline has involved a weird inverse evil Cyrano de Bergerac scenario where Marvin's "girlfriend" (ugh) wants to watch musicals with him, and Marvin doesn't enjoy them and can't bring himself to perform even this incredibly basic bit of emotional labor, so he's brought in some kind of lookalike ringer to take his place. But it turns out that if someone does all the work of a relationship on Marvin's behalf, Marvin isn't necessary … at all? This is definitely the worst thing you'll read in the comics today, and will make you glad next week when all the jokes are about Marvin stewing in his own feces.
Judge Parker, 3/18/16

Sure, we make fun of Judge Parker for always having every story end with someone handing the protagonists money, but definitely worse than someone handing the protagonists money is someone literally abusing their position of state-sanctioned power to help the protagonists, because they're good and/or rich and thus deserve to have the law bent on their behalf. Like, remember when Rocky Ledge assaulted a photographer, then felt bad about it, and Sam had the local constabulary run the guy out of town? (The guy who had been beaten up, not the guy who had done the beating.) Anyway, definitely a good use of some highway patrolman's time and tax-funded paycheck will be driving around looking for a rental car and then informing some random private citizen about said rental car's location. But why stop there, really? Why not just send a special ops team to "extract" Rocky from his romantic getaway with his secretary, eliminating any potential witnesses to his infidelity in the process?
Pluggers, 3/18/16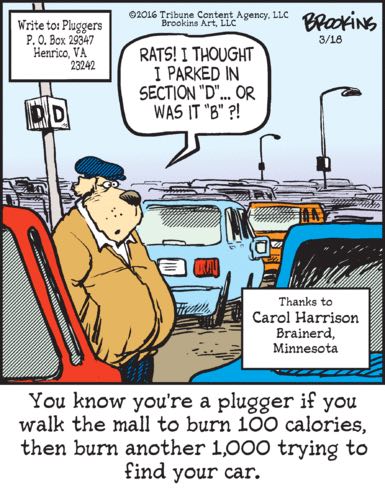 You know you're a plugger when you choose to live someplace so unrelentingly hostile to pedestrians that, to stave off that coronary for another month or two via the sort of "exercise" that used to be a basic reality of the human condition, you have to drive your polluting automobile onto a vast expanse of asphalt so you can walk dully in circles through a gently decaying indoor mall.