Post Content
Crock, 10/16/16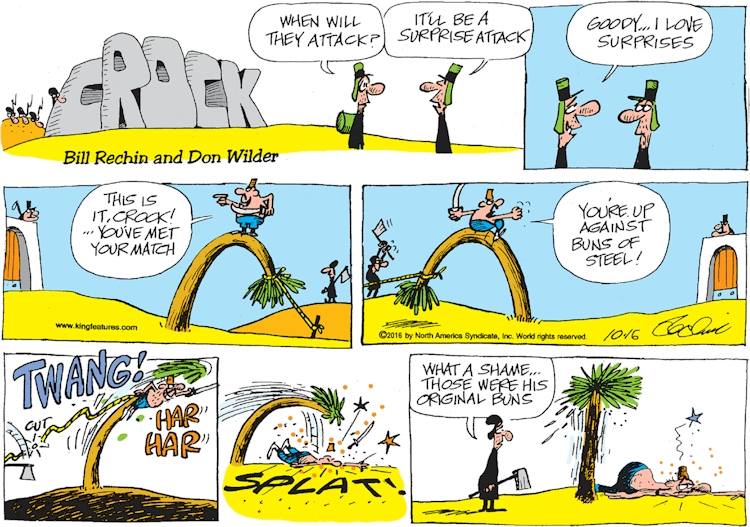 Buns of Steel — you remember: Alaska fitness entrepreneur Greg Smithey, VCR tape, 1987? Thirty years ago? Inherently funny. I mean, "buns," heh, that's comedy gold amirite. So, are we done here? Draw it up and publish — just be sure to put a big butt in there somewhere.
Judge Parker, 10/16/16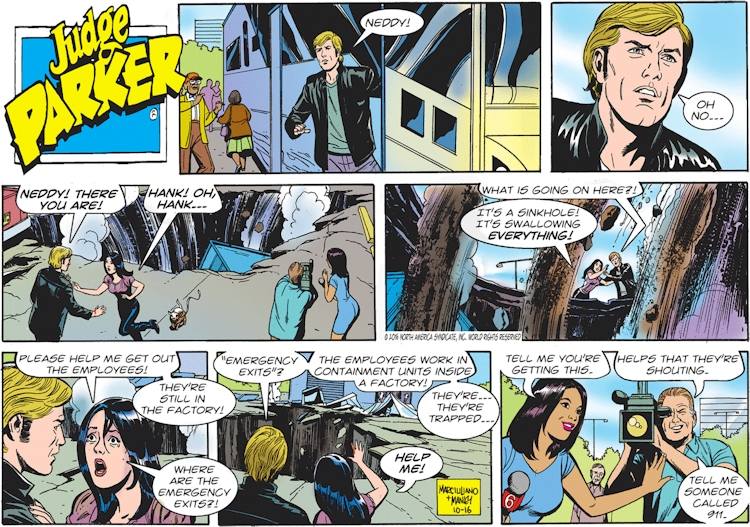 THINK, NEDDY, THINK!
THAT NEWS LADY WILL TRY TO PIN THIS ALL ON YOU.
CHEATING THE OLDS. LOCKING THEM IN STEEL BOXES. BRIBING THE BUILDING INSPECTOR.
SO UNFAIR.
WAIT, HERE'S HANK.
♫ "Hi, Hank!" ♪
THIS WAS ALL HANK'S IDEA. WASN'T IT? YES IT WAS. HE USED ME. THE BRUTE.
SO UNFAIR.
♫ "Thanks, Hank — 'Bye!" ♪
SAY, I WONDER IF MARK STILL WANTS TO GET MARRIED? HONG KONG SOUNDS PRETTY SWEET RIGHT NOW.
Spider-Man, 10/16/16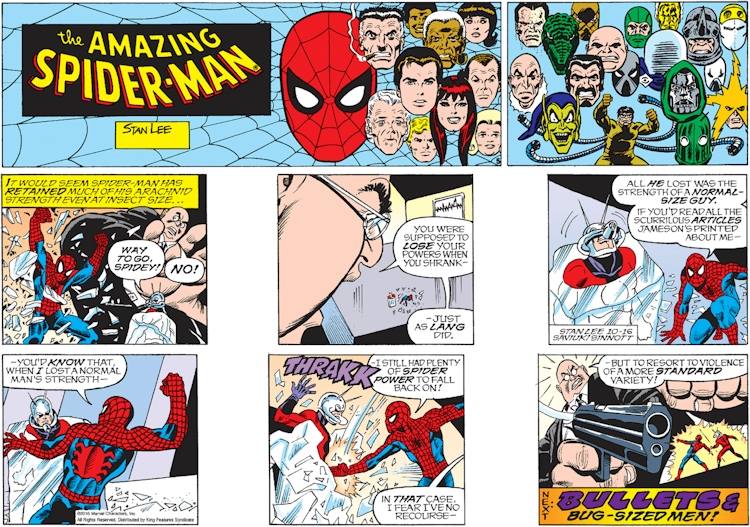 Next to their endless faux-clever dialogue while they "battle," the thing that annoys me most about superheros is the ham-handed logic used to get them out of jams. The conceit here is that the reformulated shrink-gas that took away Ant-Man's "powers of a man" affected only Spider-Man's man-strength, leaving his spider-strength untouched so the joke's on you Egghead a.k.a. Elihas Starr, nemesis of the first Ant-Man Hank Pym and the second Ant-Man Scott Lang. But hey waitaminute – if that long-ago bite gave Peter a spider's proportionate strength, shouldn't shrinking leave him with the actual strength of — a spider? So splot, right?
Algebra is hard. I think Egghead's chosen the right approach here.
— Uncle Lumpy