Post Content
Dick Tracy, 4/20/17

In case you were wondering whether Dick Tracy could go any further up its own ass in terms of just being a full-time nostalgia strip about the wonderful world of comics and the people who love them, Dick is apparently going to appear at a cosplay convention, presumably cosplaying as Dick Tracy. Remember when this strip was about gimp-masked serial killers being eaten alive by rats? Well, now it's about Dick thinking that this cosplay business seems like it could be all right now so long as he makes sure that his half-alien granddaughter isn't going to be dressing all slutty, which is much grosser.
Marvin, 4/20/17

In case you were worried that Marvin wouldn't be able to extract multiple poop jokes out of the week's "Marvin is used by adults so they can drive in the carpool lane" plot: this is the second, and it's only Thursday!
Pluggers, 4/20/17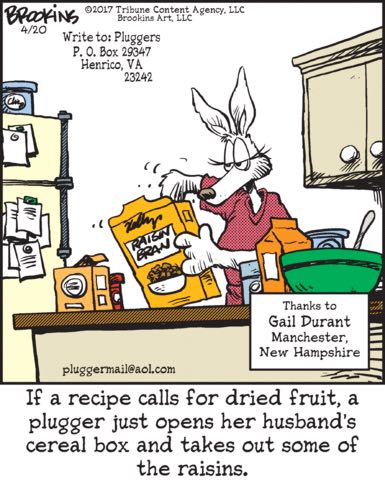 I'm not really sure why "fishing through her husband's raisin bran for recipe ingredients" is the moment when this she-plugger has finally given up on feeling anything other than a dull ache ever again, but it very clearly is. Just look at her face, man, Jesus.