Post Content
Pluggers, 5/25/17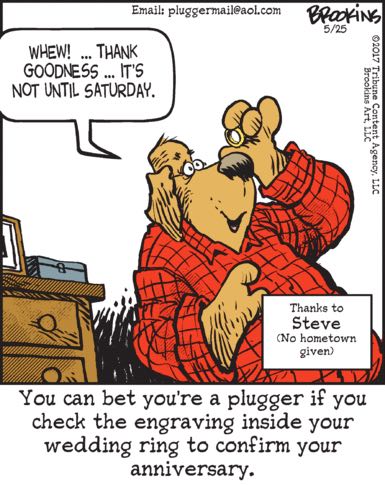 Here's a true story: I turned 40 just before I moved to LA, and for like a solid year, I thought, "Wow, this place is so hipper-than-thou that they have low mood lighting in all the restaurants! I can't read any of these menus!" It wasn't until the day I took my wedding ring off to read the inscription, only to find it had somehow become a series of illegible blurs, that it occurred to me that maybe it was my eyes that were the problem.
Now I wear bifocals and getting them honestly made me feel like I had been faith-healed, and so when I stumbled on this panel, in which a dog-man is reading his anniversary date off the inside of his wedding ring without any vision correction help, I had to ask myself: who's the real plugger here? This dog-man, whose eyesight is as keen (and presumably whose sense of smell is as powerful and coat is as shiny) as it was the day he was married? Or me, who looks at his wedding ring inscription through glasses for sentimental reasons only, since my anniversary (and a one-week-in-advance alert) has long ago been synced to all my devices' calendars via iCloud?
UPDATE: haha, he IS wearing glasses, darkness is closing in all around me, welp
Crankshaft, 5/25/17

Haha, yesterday Lillian proposed to these girls that they do some "research" and I almost made a joke that they were off to do some murders or something! Anyway, obviously this is just classic harmless old lady stuff where you do suspicious things and offer no explanation because how could anyone suspect you of being a bad person, and I'm very much looking forward to Lilian's trial for attempted murder and child endangerment.