Post Content
Gasoline Alley, 7/11/17

Ugh, fine, I guess I will supply some cursory backstory on what's going on in Gasoline Alley, which is that this freaky-lookin' dude was briefly irritated by two children while fishing because they thought he was weird and scary looking, and probably we're going to learn some valuable lessons about ugly hermits with hearts of gold and not judging a book by its cover and blah blah blah, but really today's final panel makes it look like the guy is coolly examining the unconscious kid with his single eye, trying to determine how best to cook and eat him.
Funky Winkerbean, 7/11/17

I feel like the whole "Starbuck Jones is a movie!" thing has spiraled completely out of hand in Funky Winkerbean, as it started with our sad-sack comics-obsessed characters writing for a neglected comic book hero and now they're giving a presentation at ComicCon as part of its multimillion-dollar marketing push. It would be like if Joe Shlabotnik got called up to the majors and batted .335 and Charlie Brown got hired as his personal assistant during his team's undefeated playoff run? Anyway, mostly I'm featuring today's strip to point out that that, in addition to suffering the general indignity of appearing in Funky Winkerbean, famously ginger Conan O'Brien has been transformed into a blond by the syndicate colorists, possibly because they can't tell that he and Mason Jarre as supposed to be different people.
Family Circus, 7/11/17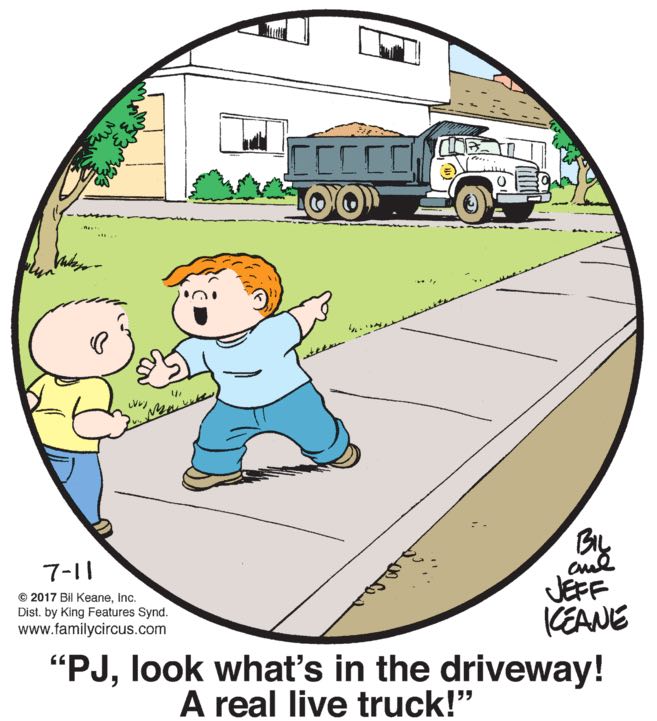 Ha ha, yes Jeffy, it's there to bury the evidence! (Specifically, the evidence that you or your siblings ever existed.)