Post Content
Spider-Man, 7/22/17
Ah, Newspaper Spider-Man, always striving to be "hip" and "with it" but always falling just a bit behind! I'm sure over at Newspaper Spider-Man HQ it feels very of the moment to have MJ's studio publicist svengali barking about a major blogger waiting, but since I'm a major blogger myself, let me assure you that blogging is pretty much over, and has been since about 2011. The new hotness is "influencers," which is a code word for social media stars with 500,000 Instagram followers or 4,000,000 pageviews on each and every one of their YouTube makeup tutorials or whatever. Newspaper reporting has been over and done with for a lot longer than blogging, obviously, so a more accurate scene would just be this publicist talking about how he's got three influencers waiting, and since they're all millennials (or, what's the thing after millennials? Gen-Z? UGH) their attention spans are notoriously short.
Dennis the Menace, 7/22/17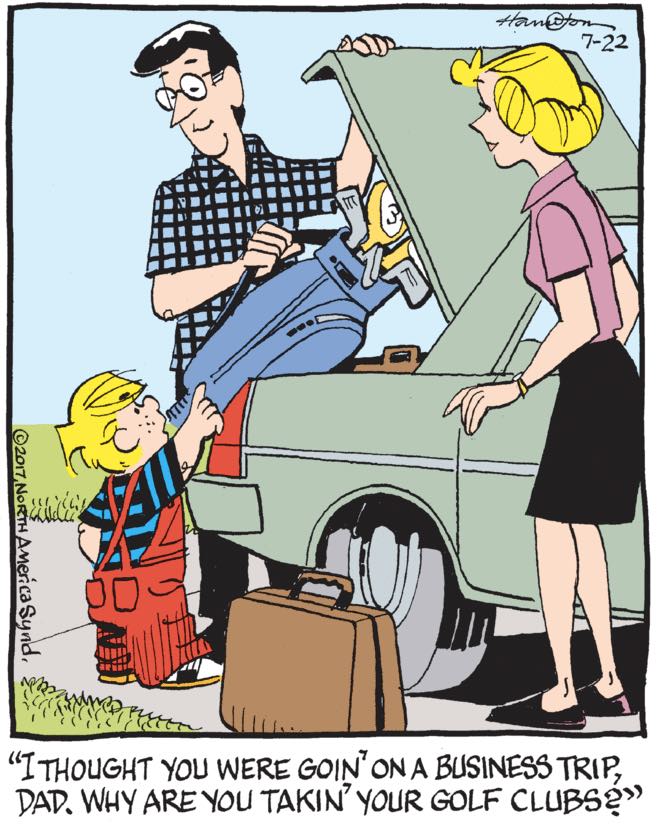 I love the knowing smiles that Henry and Alice are flashing here. I'm not sure what secret they're sharing — that Henry is a terrible liar? that in the white-collar professional world, business and pleasure mingle on the golf course, helping consolidate the wealth of the upper class? that this "business trip" is an opportunity for them both to rendezvous with their secondary partners before reuniting and reaffirming their loving bond within the a context of consensual polyamory? — but whatever it is, it holds menace in the sense that it means that the world isn't as simple as Dennis believes.
Slylock Fox, 7/22/17

Hey, kids! Remember Grimace, the beloved character from the McDonaldland commercials? Well, he's dead now. He got bit by a snake and he died.