Post Content
Rex Morgan, M.D., 10/14/17

Ugh, fine, we get it, we frickin' get it, the both of you are upstanding and moral and would never even be able to get your incredibly righteous minds around the very idea of defrauding people for money. It's baffling to you that anyone would possibly do this. Well, maybe I have someone who can explain the idea to you: BAD-ASS ART FORGER GUY!!!!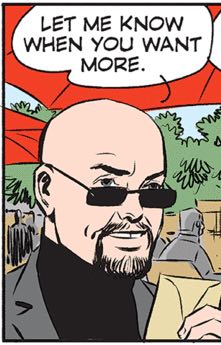 IT'S LIKE THIS, SQUARES:
AUTHENTICITY IS A BOURGEOIS AFFECTATION
IF YOU ENJOY THE WAY A PIECE OF ART LOOKS, WHY DOES IT MATTER TO YOU WHO CREATED IT?
YOU'RE FOOLING YOURSELF IF YOU THINK YOU CAN TELL THE DIFFERENCE BETWEEN THE "REAL" ART AND MY MASTERFUL REPRODUCTION
I'M HURTING NOBODY AND MAKING MAD BANK, SO SUCK IT HATERS
Anyway, several of you have suggested that our scam artist is actually Rene, who we last saw as Sarah's art teacher/a master forger in the employ of the mob, who fled his mafioso compatriots and shaved his head and got new sunglasses. It's totally possible! Though Rene always seemed like the nervous type? Not a true stud with ice water flowing through his veins like our villain here.
Shoe, 10/14/17

Ha ha, it's funny because the strip prompts intrusive thoughts of this late-middle-aged bird-man contorting his creaky body so he can have acrobatic sex with his yoga instructor girlfriend, who is presumably also an anthropomorphic bird, and who we're probably meant to envision as significantly younger than him! Oh, wait, you don't have an awful hell-brain like mine? You say the comic didn't prompt those images, which only arose when I suggested them? Well, too bad! Enjoy your weekend!
[leaves for a minute, but then comes back, to whisper a single word]: cloaca