Post Content
Funky Winkerbean, 10/2/18

So "Atomik Comix" (I think that's the whimsical spelling they're going with, I may well be wrong but please do not bother telling me if so) is running into some trouble, because apparently neither its founder, a wealthy comics-obsessive misanthrope and shut-in, nor its creative directors, who for some reason quit presumably lucrative jobs in the film industry to take this gig, could've predicted that a brand new comic book company trying to foist nostalgic-feeling superhero print books that nevertheless feature entirely new characters might not be so successful or profitable. So they're turning to desperate and doomed techniques to boost sales numbers, like giveaway contests! Specifically, they're giving away some nostalgic "atomic bomb rings" Chester found on eBay, which, I am reasonably certain based on today's strip, will turn out to have been made in the '40s or something with real plutonium, causing cancer, because everything comes back to cancer in the Funkyverse! Can't wait for the massive lawsuit that will bankrupt this company and its unlikeable employees once and for all!
Dennis the Menace, 10/2/18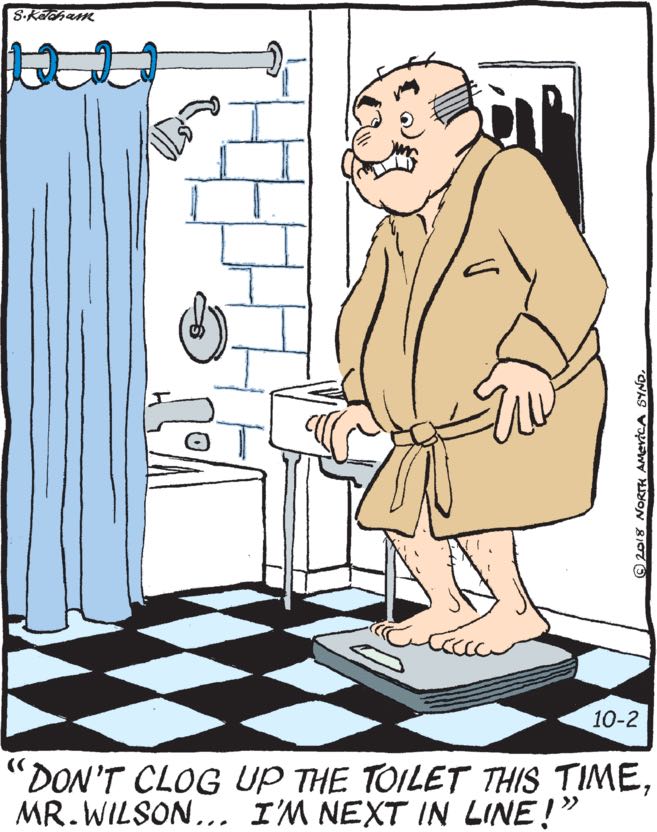 There's just so much going on here that doesn't quite gel into a coherent comic but I still kind of love it? Like, Mr. Wilson is standing on the scale, which we've previously seen is a soft spot for him that Dennis can poke at, but apparently Dennis, who's outside the bathroom, has decided to go for the "haha, remember that time when you shat so much you fucked up the plumbing?" jugular instead. And Mr. Wilson's so mad about it! Like, he probably went in to weigh himself and closed the door because he didn't want the little neighbor kid who unaccountably keeps coming into his house to make a fat joke about him, again, so instead Dennis just humiliates him by yelling "Careful of those big ol' turds, Mr. Wilson!" It's grim, extremely grim.
Slylock Fox, 10/2/18

How long has it been since the animalpocalypse ushered in the Glorious Animal Regime in Slylock Fox, do you think? Five years, maybe? Ten? Anyway, we've apparently got to the point in its political development when the mass arrests start.