Post Content
Pluggers, 12/18/18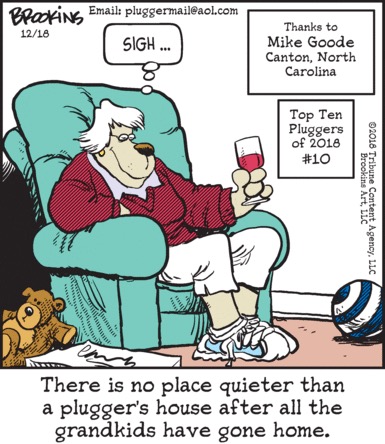 This is something you don't usually hear me say, but I like the cut of this elder she-plugger's jib! I particularly like that you can tell that her grandchildren left literally minutes ago and she's already wining out. Is she going to bother picking up any of their junk before getting blotto? She sure isn't! Is she worried about drinking red wine while wearing white pants? She gives not a single solitary shit! This ecstatically drunk grandma is definitely one of my top ten pluggers of the year!
Mary Worth, 12/18/18

It's going to be fun seeing how close Mary can get to the question she actually wants an answer to — "So, are you guys still fucking on the regular or what?" — without coming out and saying it. In the meantime, I'm just going to enjoy the incredibly tiny plate that muffin is sitting on in panel two. You don't expect Mary to just hand over a muffin without a plate, do you? She's not an animal.
Crankshaft, 12/18/18

They say consistency is the hobgoblin of little minds, but I've never claimed to be anything other than petty and small, so I'll say this: it drives me crazy that the Funkyverse contains both weirdly named psuedobrands like "McArnold's" but also actual brands like Amazon. It forces me to conclude that Amazon paid to be mentioned in the strip, or, more likely, that McDonald's paid not to be mentioned.